Gluten Free Almond Blueberry Pancakes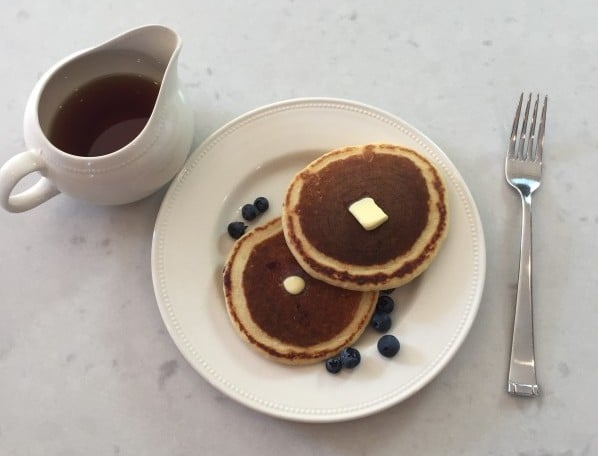 Everyone that knows me knows that I LOVE breakfast.  I always have.  I like to start my day off right by eating something healthy and yummy.   These are my favorite gluten free pancakes.  I think it's because they have my two weaknesses….almonds and blueberries.  They're light, fluffy, and oh so full of flavor!  I hope you like them too!
Gluten Free Avenger Episode 2: Gluten Free Almond Blueberry Pancakes is now live on YouTube, you can use this link (http://youtu.be/ktMWAxOrbYc) or view it below:
Ingredients
2 eggs
1 teaspoon vanilla
½ teaspoon almond extract
2/3 cup milk or unsweetened almond milk
1/2 tablespoon sugar
2/3 cup all purpose gluten free flour
1 cup almond meal
1 teaspoon baking powder
¼ teaspoon salt
4 ounces small fresh blueberries
Butter or cooking spray for pan/ griddle, more for pancakes
Maple syrup for pancakes
Directions
In a medium size mixing bowl, whisk together the eggs, vanilla, almond extract, almond milk, and sugar until combined.
Fold in the flour, almond meal, baking powder, and salt. Mix until combined.
Set a large non-stick or cast iron skillet over medium heat. If not using non-stick pan, add a small pat of butter or cooking spray to lightly coat pan. Add batter to the pan using ladle or ¼ cup. You can make 2-3 at a time depending on the size of your pan.
Add a small handful of blueberries (about 5-6 per pancake) to the top of the pancakes.
Cook on the first side until golden brown on the bottom and beginning to form bubbles on the top, about 2 minutes.
Flip and cook on the second side until golden brown, about 1 to 2 minutes. Don't keep them on the second side too long or the blueberries will explode. Repeat to make the remaining pancakes.
Serve pancakes immediately with butter, maple syrup and a few fresh blueberries.