Did you know that July is National Picnic Month?  I love a good picnic, so I thought this would be the perfect time to share some of my summer
picnic
essentials.  My first memories of picnics were with my parents in
Ghirardelli Square
in San Francisco with some fresh sourdough and salami.  My idea of a picnic has changed a bit since then, but it's always about good people, good food and good drinks.  I believe you can have a picnic almost anywhere, whether it's on the roof of your home or apartment building or at a local park like the 
La Brea Tar Pits
.  I do believe in brining a few of my favorite items to make sure that the experience is perfect though.
What are some useful things for the perfect picnic?  Well here are my Picnic Essentials: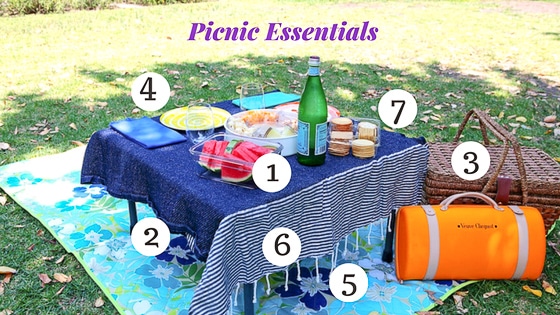 Make sure that all of your food is in separate containers.  I really love the the compartmentalized container that I used in the photos, it keeps 5 different items separated but in the same container for easy transportation.  It's BPA free plastic which is lighter that glass and non-toxic.
We recently bought a picnic table which makes picnicking on uneven services much easier. Especially if you like to take your picnic to the beach.
I also really love my insulated picnic basket.  Not only does it hold cups and plates, but it has an insulated section to carry your food too.  I decided to get rid of the cups and the plates because they had BPA and get my own.
I decided to go with stemless shatterproof glasses, these great melamine salad plates and colorful napkins and they all fit in the picnic basket.
This is picnic blanket zips up to be an easy to carry tote and it's been in my life for 10+ years. I love the fact that it has a strap, this made it very easy to tote around when we lived in New York City. It also has a fair amount of padding if you're on hard ground.
I also decided that instead of buying a picnic table cover that I would simply re-purpose one of my Turkish beach towels.
As far as food goes, I usually go with food that is easy to grab and doesn't need utensils.  Basically I stick with finger food, like baby carrots, watermelon, cheese, prepared meats, bread and crackers. I also usually bring some sparkling water for those that don't drink and some lovely champagne, which happens to be Veuve Clicquot this time. Unfortunately the Veuve Clicquot carrying case with two champagne glasses (in the photo above) is currently sold out but I linked to another wine/ champagne cooler below.
I hope these tips help you out the next time you're planning your next picnic.