"Should I outsource my business?" If you have been asking yourself this question, then the answer is a resounding 'yes!"  There are so many great benefits of outsourcing.
Most of the time anyway.
Do you want to attract more clients and boost revenue?
Learn how to position yourself as an expert, grow your audience, and attract the right clients.
Anyone who has been feeling overwhelmed with the mundane aspects of running of their business is going to ask themselves this question, and don't feel guilty if you choose to outsource! Plenty of entrepreneurs and influencers who run a one-woman-show illicit the help of outside resources in order to maintain quality and quantifiable content. If you want to outsource your business, it's a good sign that you are running a profitable outfit and things can only go up from here.
So, here are the top five benefits of outsourcing your business without feeling guilty about it.
Benefits of Outsourcing:
5. Photographers
The first outlier professional that most business owners will think to hire are photographers. In today's social media-driven world, pictures and video are a necessity in marketing your business. And while the debate of quantity versus quality is still being driven, the fact of the matter is, you still need some professional content positioned on your platforms. In order to achieve that professional demeanor, you will want—actually, need— to hire a professional photographer. Even if it's just to create a standard profile picture or a Facebook header. In order to get consumers to pause in their incessant scrolling rituals, you want to wow them with killer content. And what better way to get them to take notice than with some decent quality photos?
And yeah, I know, I know—iPhones take perfectly nice photos and they won't cost you a penny. But if your business is heavily product driven or if you're an influencer, this particular method to outsource your business will become inevitable. So hire a photographer. You won't regret it.
RELATED: Hire a Photographer with Online Profile Pros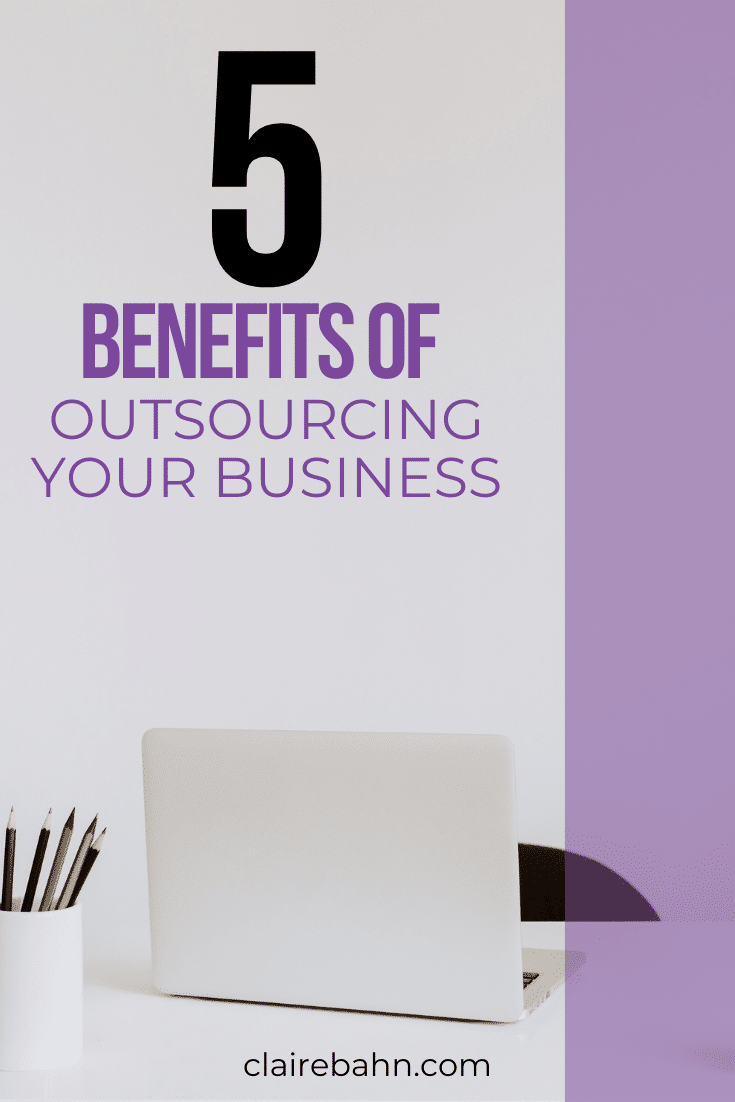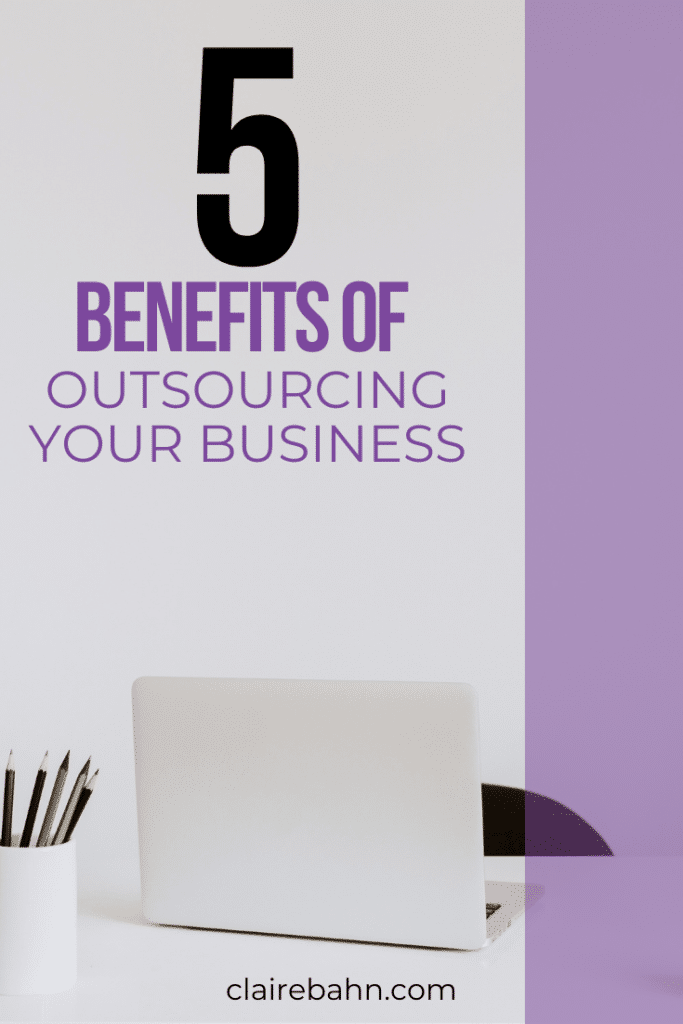 4. Social Media Manager
A social media manager's job is exactly what it sounds like: they manage your social media. If you can't keep up with today's ever-changing algorithms, it would be your social media managers job to make sure your content stays relevant, making this one of the many benefits of outsourcing. It's also important to be present on social media daily, and if you're too swamped with your day-to-day of running your business, a social media manager would be an ideal way to outsource your business.
A social media manager generally acts strategically to market your business on platforms like Instagram, Facebook, and even YouTube. It will still remain your job to supply the content, but they can make expert suggestions on what is trending and they can delegate the best times to post content to reach a larger audience. A social media manager will be the one to play around with different hashtag uses, and some can even set you up with professional photographers.
If you keep asking yourself, "Should I outsource my business?" then you might also want to check out Forbes 6 questions to ask yourself about hiring a social media manager.
3. Business Manager
If you've asked yourself, "Should I outsource my business?" then maybe you just need a business manager. A business manager is the perfect way to outsource your business to ensure all of your personal brand's needs are met. They will tend to the business aspect, the day-to-day flow, and sometimes even the financials. A business manager is generally a jack-of-all-trades type of person. They will hold expert knowledge in fields like public relations, marketing, and sometimes even aspects of the law.
A business manager is relevant to any type of business. Whether you are flying solo or you have a team to back you up, a business manager can do wonders to help your business profit….another great benefits of outsourcing.  If you've decided to outsource your business in more ways than one, then your business manager will act as the liaison between, say, your accountant, your social media manager, and your writer. In short, a business manager will help to relieve some of your more pressing duties so that you can focus on the big picture stuff.
RELATED: The Importance of Creating a Compelling Personal Brand
2. Writers
One of the key indicators of quality content lies in a person's writing capabilities. As much as today's casual conversation bleeds into online content, it is still absolutely vital that you present yourself in a professional manner. If you are looking to collaborate or work with a high-end brand, the first thing you are going to have to do is send them in proposal email. And if you can't seem to formulate a professional tone in those emails, then you might have a problem landing the gig. That's why a perfectly reasonable (and sometimes necessary) way to outsource your business is by hiring a writer. A writer can help craft those emails so that other businesses just can't say no.
Not to mention, these brands are going to look at your content before they hire you. They'll not only read through your Facebook posts and Instagram captions, but they'll critique your other online content such as your blog posts. They are going to check and see if you can handle creating a message about their products that will entice buyers. If your writing is hard to read or bit too conversational, then they might not want you for the job.
If you outsource your business for just one reason, a writer is going to be the best use of your dollars. A writer is an investment that can create you evergreen content that gives you passive income. A writer can also help to redesign your website, your blog posts, and even your resume.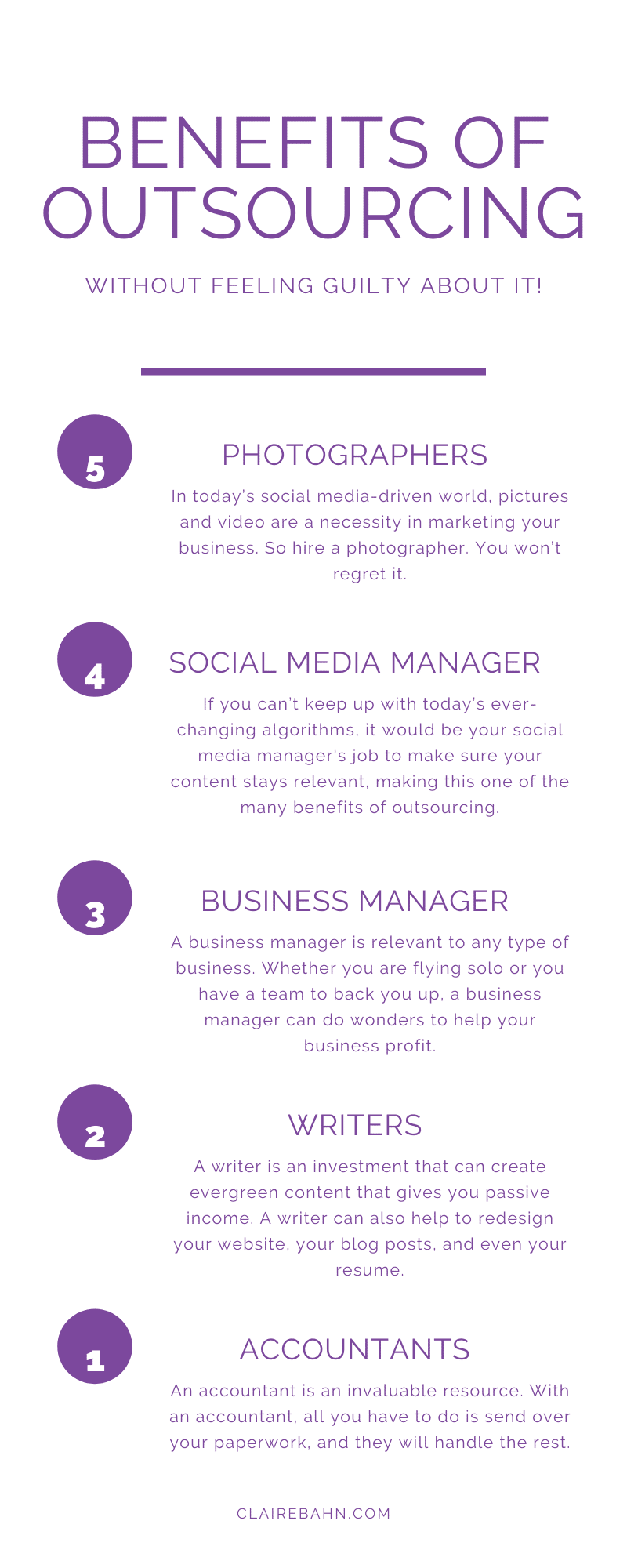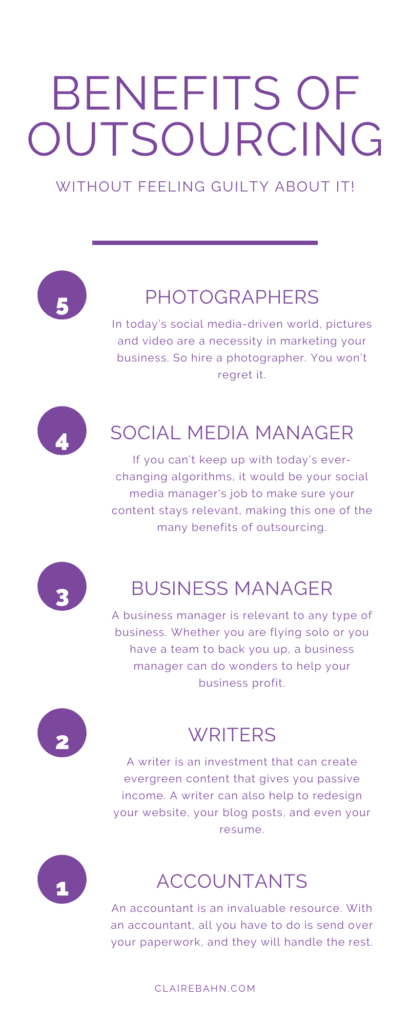 1. Accountant
When you are in business, the one aspect that should be your top priority are your finances. Dealing with taxes is no joke, and you don't want any mishaps causing you to partake in an audit from the IRS. The first method to outsource your business that I recommend is to find an accountant. An accountant can not only organize your profit and selling margins, but they can help you figure out your taxable income. This is a huge help, especially for brand new business owners.
If there's one thing I can make clear, it is that an accountant is an invaluable resource. I can be horrible when it comes to keeping up with my expense and income spreadsheets. But with an accountant, all you have to do is send over your receipts, bills, and bank statements, and they will handle the rest. The tedious work of inputting all the numbers that come from your personal business will be safe in their hands. You'll really appreciate them once tax season comes around!
RELATED: Top 5 Ways to Stay Productive When Working From Home
Running a business takes a lot of work, and despite wanting to have eyes and ears in every aspect of your personal brand, sometimes you have to trust others to take hold of the reins. That way, you have the freedom to indulge in the more creative aspects that will bring your business to new heights. You might feel hesitant about looking into to ways to outsource your business; you might even feel guilty about it. But you can't be an expert in everything and using other professionals to help guide you can ultimately be a huge payoff.
It's time to elevate your personal brand to align your visibility and notoriety with your expertise. Our Personal Brand Concierge Program was built for high-achieving entrepreneurs, investors, founders, and executives just like you. Learn more about our Personal Brand Concierge Program.