Industry leaders are always talking about the success of B2B and growing their brand. But what they neglect to share is the LinkedIn marketing strategy that helped earn them those results they love to talk about.
Social media is a handy tool for building your personal brand, connecting with like-minded professionals, and keeping up with industry trends. 
But when it comes to generating new client leads, it's best to be selective with what platform you spend your time on. Twitter is great and all, but it won't do you much good in terms of building a committed clientele. 
Do you want to attract more clients and boost revenue?
Learn how to position yourself as an expert, grow your audience, and attract the right clients.
Love it or hate it, Linkedin is undoubtedly one of the most valuable tools available to CEOs and founders who are looking to increase their brand's digital presence. 
It is unmatched compared to other social media platforms and houses tons of helpful features designed to help you gain authority and generate more B2B leads. 
RELATED: The Ultimate Personal Brand Messaging Guide For CEOs and Founders
Why Linkedin is Important for B2B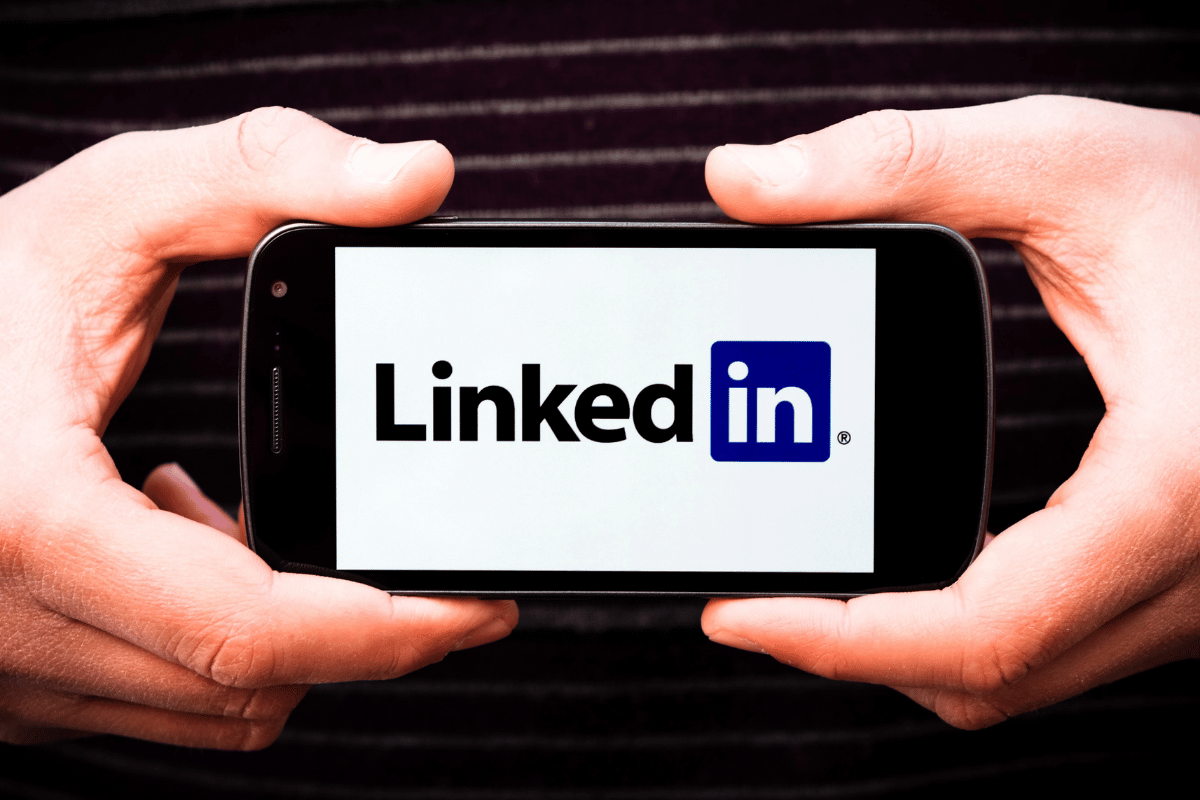 Frankly, other social media platforms are not your best marketing partner. As a founder or CEO, LinkedIn is where you really need to be. If used correctly, LinkedIn and its business-forward features are your best bet for generating valuable leads.  
Need proof as to why LinkedIn is essential for B2B marketing?
First, LinkedIn isn't cloaked in mystery as much as other social platforms are. If you've tried your hand at organic Instagram and Facebook marketing, you know that they're all about pay-to-play. Which makes it far more challenging and time-consuming to get your brand in front of the right people. 
LinkedIn isn't so needy. 
Crafting a LinkedIn marketing strategy comes with much less headache and algorithm anxiety. This is thanks to the platform's organic reach, which is leagues ahead of any other social media site. 
LinkedIn Means Business… Literally
Now, if you're active on socials, you know that each platform attracts a different demographic. And on LinkedIn, it's all about business. 
LinkedIn is a space for other people who understand the business world. Here it's easier to collaborate, connect, and invest in each other's work. And when you mingle with the right crowds, you'll be more likely to find your ideal client and spend less time trying to convince people to pay for your services. 
It can also help you gain the right type of celebrity you want for your brand. Instead of dancing around in front of a camera for an Instagram Reel, you can get noticed by sharing your expertise on LinkedIn. 
The ultimate boost to your personal brand comes with achieving that "thought leader" status. 
Because of LinkedIn's professional preference, it makes standing out as a thought leader more accessible. It's an ideal platform for building your brand because you're in a space that encourages going against the industry grain, sharing valuable insights, and announcing exciting business news. 
Once you've claimed your space in LinkedIn feeds, you can start proving that you're someone who knows the ins and outs of your industry. How do you do that?
You develop a content marketing strategy. 
With 47% of C-suite executives saying they use LinkedIn to connect with people who create thought-leading content, it's certainly something to consider in your B2B strategy. 
RELATED: What is Lead Generation? A Beginner's Guide
The Ultimate Linkedin Marketing Strategy for 2021
Now that I've sold you the value of LinkedIn let's get into how to use LinkedIn marketing for your goals. 
It's one thing to have an eye for creative content or to have a list of incredible industry insights you can't wait to share. But knowing how to best deliver your brand to other LinkedIn users and potential clients requires careful planning. 
Before you can start jumping into posting Native video, LinkedIn Pulse blogs, or carousel posts, you need to know your brand's messaging, priorities, and goals. Otherwise, you may end up wasting a lot of time and energy wondering why nothing seems to be generating new leads. 
As I said, LinkedIn is all about business. With so many influential eyes watching, you have to treat it as an extension of your professional portfolio. 
You wouldn't go into an elevator pitch unprepared, so you shouldn't be posting aimlessly on LinkedIn either. 
1. Have a goal 
Before you start drafting up a content schedule for your B2B marketing strategy, you need to solidify your brand's goals. 
And I'm not just talking about financial goals. 
You have to ask yourself the bigger questions: Who do you want your brand to advocate for? What problem do you want to solve for your clients? 
This is where you check in with your brand's messaging. 
Your brand's message, voice, and content pillars should be at the core of everything you do — especially on LinkedIn. 
For example, I aim to help CEOs and executives maximize their brand's authority and influence online. I center everything I do, create, and share on this goal. 
Creating Content
From there, you can focus on content ideas to build your LinkedIn online presence. You really need to niche down here. If you're a marketing director, you don't want to post content about every single thing there is to know about marketing. 
If you do this, people won't be able to associate you with anything in particular. When someone asks whom they can go to for a specific marketing tactic (let's say, LinkedIn marketing strategies), you want your name to be the first one that pops into their head. If you focus on broad content ideas like "marketing," you're going to be a dime a dozen. This makes it that much harder for people to discover your personal brand. 
The bottom line is that you need to know what your personal brand is good at and stick to it. 
Only then can you begin getting serious about your LinkedIn marketing strategy. 
In terms of what to post, that's pretty easy. LinkedIn offers lots of in-app content options. The less content you drive away from LinkedIn, the more likely they are to show it to your audience. That's exactly why they have features such as:
Native LinkedIn Videos: Video content is necessary for today's market. If you're already creating YouTube videos, just repurpose these for Native LinkedIn videos!
LinkedIn Pulse: These are LinkedIn's dedicated areas for personal brand blogs. Use this space to elaborate on your expertise (copy and paste your website blogs to save time)
Carousel Posts: These are attention-grabbing graphics that you load onto LinkedIn as a PDF. This is a newer feature so they tend to perform extremely well.
2. Post in Moderation 
Like so many other pieces of the puzzle, there is a right and wrong way to do something. And posting whatever and whenever is not the way to approach your LinkedIn marketing strategy.
All things in moderation… even your posts.
With LinkedIn serving as an extension of your professional portfolio, it's important that you're selective with when and what you're posting. 
By allowing yourself time to review your content before you post, you can ensure that everything you share has the right intention and contributes to maximizing your authority. Quality over quantity will always will in the long run.
Posting once per day, 5 times a week is more than enough. Just make sure you're utilizing all the different types of posts (Pulse blogs, native videos, carousel posts, etc.). This will help you discover what kind of content your specific audience enjoys. It's going to be different for everyone. 
But don't wait until you're enjoying downtime on the couch to share your content. Posting at night will cheat you of your best chances of getting noticed.
 Just like knowing you get in a better workout early in the morning or that you're most creative in the evenings, You should share LinkedIn content at certain times to see its full engagement potential. 
Unlike other social media apps, LinkedIn users are more likely to be online during work hours. 
It is work-related social networking, after all. 
Try to post your planned content during your standard office hours to see the engagement levels you're aiming for. 
3. Use the Sales Navigator 
Knowing how to use LinkedIn marketing options will undoubtedly elevate your B2B leads. And using their Sales Navigator can take your strategy to a whole new level. 
What's Sales Navigator, you ask?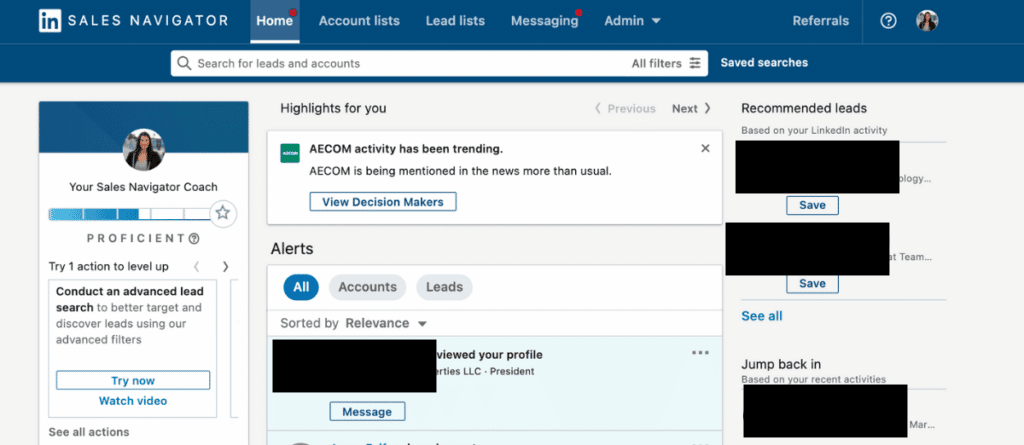 Toggling to the Sales Navigator tab on your LinkedIn homepage makes generating, saving, and connecting with leads a thousand times easier than any other platform out there. 
Before you jump into Sales Navigator, research who your ideal B2B client is. Decide what industry they're in, how large their company is, and where they work. 
Use your findings to search for leads on Sales Navigator via the search bar and result filters at the top of the page. 
Like magic, it will show you a list of every LinkedIn user that matches your criteria.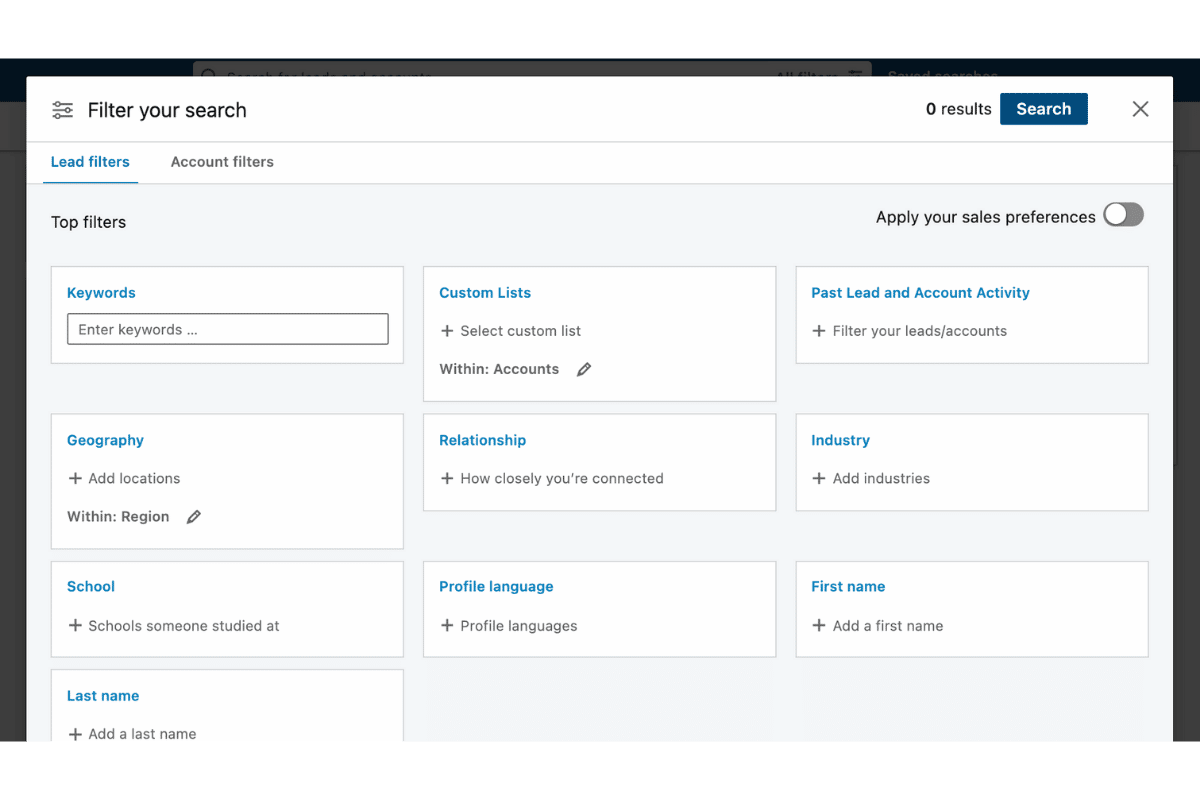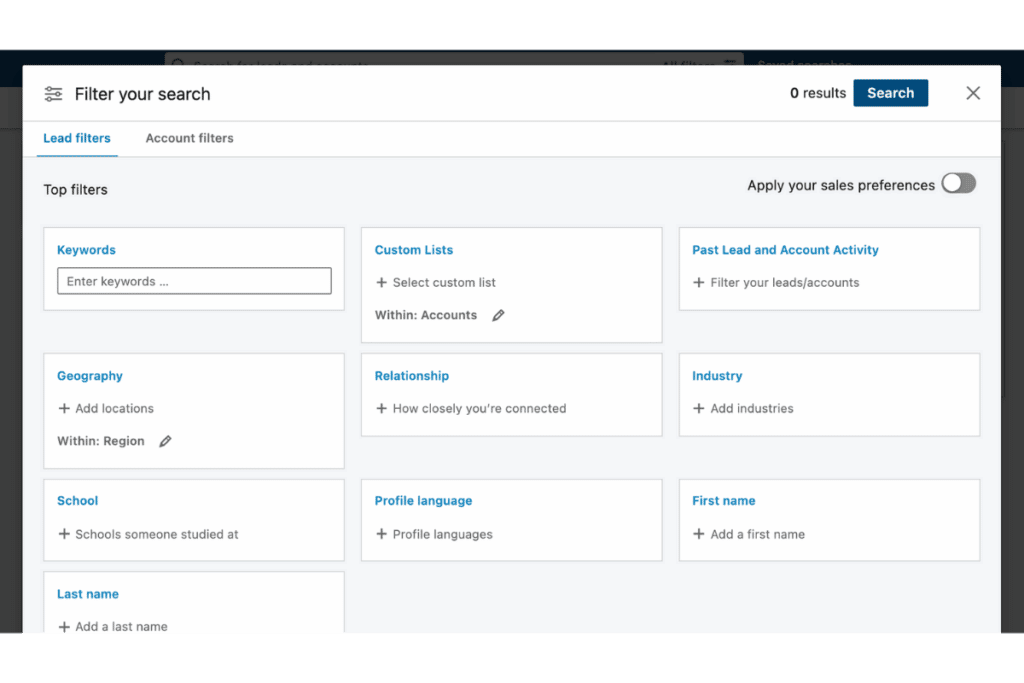 You can scroll through profiles and select the ones that are the best fit for your target audience. Then, save them to your Lead Lists and tag them for easier filtering across all of your saved profiles (more on that next).
After you've done your research and are happy with the search criteria you used, you can save searches to refer back to and check for new results. 
If you've found a user that matches your ideal B2B client criteria to a T, click on the "View Similar" option to see a whole new list of profiles that share the same qualities.  
Sales Navigator is seriously a game-changer. 
4. Create Lead Lists 
After you've acquainted yourself with Sales Navigator, you'll want to figure out how to best use it for your LinkedIn marketing strategy. 
Rather than typing random profiles into the search bar, you need to filter your lead search to discover the best potential clients for your brand. 
Filter your lead search by using keywords based on an industry, like "digital marketing" or "health and wellness."
Then, decide which country, region, or state your ideal client typically lives in. Doing a bit of research beforehand can tell you where in the world you may be most likely to find someone who matches your target audience. 
You can also filter results based on a user's position in a company, how long they've been in that position, and how large a company's staff is. For example, I work almost exclusively with founders and CEOs, so I filter my lead search results to people who have those titles in their LinkedIn Profiles.
As you start finding potential leads, create a Lead List titled "Leads," "Ideal Client," or "Target Audience." I recommend making additional lists as well: 1 for potential press connections and 1 for your competition so that you can keep track of what other people in your industry are doing.
Following Up
I use my Lead Lists to ensure I'm spending my time where it's most beneficial. 
Instead of aimlessly scrolling through my feed every weekday, I engage with content posted by the people I've saved as an ideal client. By consistently visiting their profiles and leaving genuine comments on their content, I'm making sure that I'm getting noticed by the right people for my brand. 
I also use it to follow up with potential press opportunities by engaging with podcast and channel hosts, journalists, and authors. 
Maintaining and utilizing your Lead Lists helps you to take active control of your LinkedIn marketing strategy. 
No matter how skilled you are, being passive and waiting for B2B clients to come to you just isn't going to happen when you're only starting out. 
RELATED; 10 Habits of Successful People
Conclusion 
Whether you love everything about LinkedIn or you do your best to avoid it at all costs, it's undoubtedly one of the most effective marketing tools available today. It serves as a one-stop shop for networking, industry news, and brand growth. All while remaining incredibly user-friendly and fun to use. 
Generating leads, creating content, and crafting a LinkedIn marketing strategy that promises a significant ROI isn't as complex as some other successful people might make it seem. Don't let them fool you. 
Be thoughtful about your content, know your niche, and make yourself known to the right audience. Soon enough, LinkedIn will be your best business asset yet. 
Do you want to attract more clients and boost revenue? Learn how to position yourself as an expert, grow your audience, and attract the right clients. Watch my FREE Personal Branding Masterclass today.
More Marketing Resources: