A year ago, I never would have thought I would be writing this blog. I hated marketing on Twitter. Instagram has always been my safe haven, and it makes social media marketing look easy. 
For anyone with a personal brand, Instagram seems like the best place to start. Stories help you create more intimate conversations with your followers, you can curate your feed posts to make you appear flawless and successful, and it's by far the best platform to say, "Hey, look at me!" 
After my rebrand from a lifestyle blogger to a personal branding strategist, I found that Instagram is the worst platform for a small business owner. Especially one targeting Fortune 500 company CEOs. 
But I just didn't get Twitter. Every time I signed in, I was overwhelmed. People were arguing about everything, from politics to the latest celebrity drama. Not to mention the formatting makes it next to impossible to keep up with accounts you follow.
So what changed? After some careful research on Twitter marketing tips, I finally found an easy strategy that makes Twitter work for personal brands.
RELATED: What Is Social Media Branding?
Who Should Be Marketing On Twitter?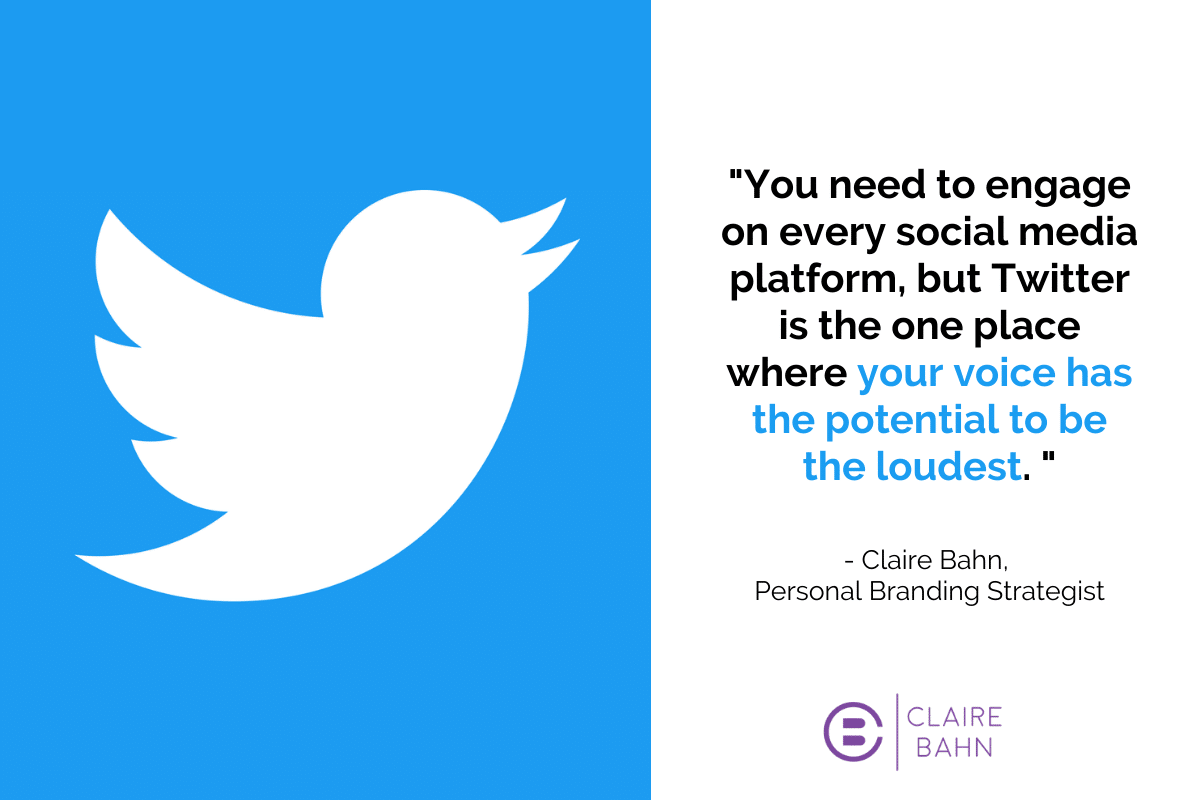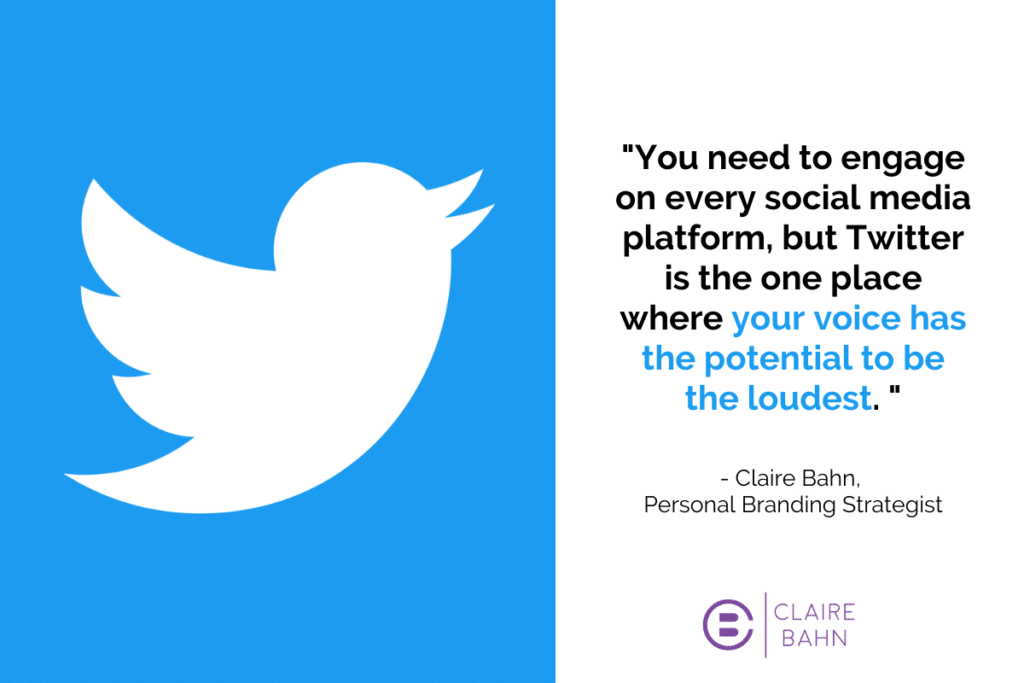 From time to time, you'll see Twitter users promoting a product or service. But by and large, Twitter serves one purpose: to share news and ideas. 
I'll dive into the details about the type of content you should be sharing on Twitter in the strategy section of this blog. But before we dive into that, I want to make sure you understand what type of person it takes to succeed on this social platform.
1. People who want to build a strong brand voice
One of the keys to having a successful personal brand is having a strong brand voice. Think back to my last blog about identifying your brand voice. What three words do you want people to use to describe you? Tweet frequently, and you'll start to discover how your audience perceives you. 
2. People who have a blog, podcast, or video content
Twitter is excellent for people who create long-form content because it's one of the only platforms where you can share outside links without hindering your reach. You can use Twitter to break up your long-form videos or blogs for endless Tweets about your area of expertise.
3. People who want aren't afraid to express their opinion
You cannot be scared to share your opinion if you're marketing on Twitter. Twitter is not for the faint of heart, and it's not for people who shy away from controversy. In fact, this platform is for people who thrive off of it. 
If you want to become a thought leader, you have to be willing to have your voice heard. And that's typically done by sharing a unique perspective on how to do (or not do) something in your industry. 
RELATED: HOW STARTUP FOUNDERS CAN STEP UP THEIR PERSONAL BRANDING IN 5 STEPS
Marketing on Twitter: Getting Started
I'm not going to pretend to understand all the nuances of the Twitter algorithm. This is simply because all social media platforms constantly undergo algorithmic changes, and it's difficult for any one person to keep up. 
Instead, I'm going to share with you the basics of how to use Twitter. Having these bases covered will help you passively keep up with the algorithms so that you'll never have to wonder if marketing on Twitter will work for you. 
Profile Etiquette
If you want people to follow you for your expertise, your profile has to be captivating.
Handle: Your handle is the name that follows the @ sign on Twitter. This is what people will use to mention you in a Tweet. As I say with any social media platform, you should use your first and last name for this.
Name: Your Twitter name is what people will see above or next to your profile picture. This can be the same as your handle.
Bio: Your bio should be snappy and to the point. You can use your personal brand statement to make it easy. If you work or a large corporation, you may also need to include "Opinions are my own." Your bio also displays your location, which I recommend having if you're local or trying to appeal to a local audience. For example, I include LA in my bio because I work with investors, many of whom are in the Los Angeles or Silicon Valley area. 
Link: Always have your website or landing page link in your bio. I recommend staying away from apps such as LinkTree simply because they aren't very customizable, and it takes traffic away from your website. 
Crafting a Tweet
To create your Tweets, click on the blue feather button on the bottom right of the mobile app. It will say "What's happening" in light gray, where you can start your tweet. 
Here are some basic etiquettes for a well-crafted tweet:
Don't overuse hashtags. None or 1-2 is perfectly fine.

Images do reasonably well, so try to use these in conjunction with your thoughts or tips.

Original thoughts do best. 

Retweet industry information occasionally. However, you should 

always

 "Quote Retweet" so that you can share your own opinions on whatever video, blog, or Tweet you're sharing.

Video content is booming on all social media platforms, including Twitter. I recommend sharing short clips to your longer-form videos, along with a 2-sentence synopsis, and the link to the original video. 
RELATED: HOW TO BUILD A REPUTATION WITH YOUR ONLINE PRESENCE
Step-By-Step Twitter Marketing Strategy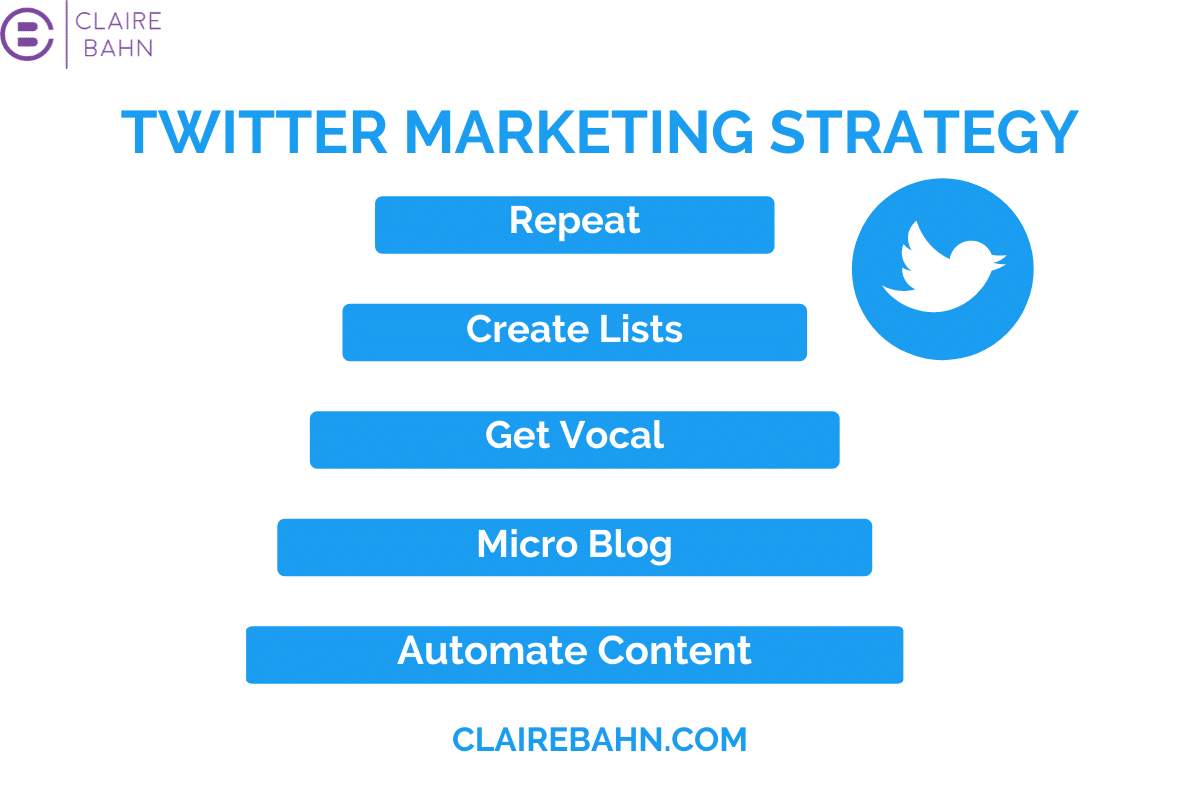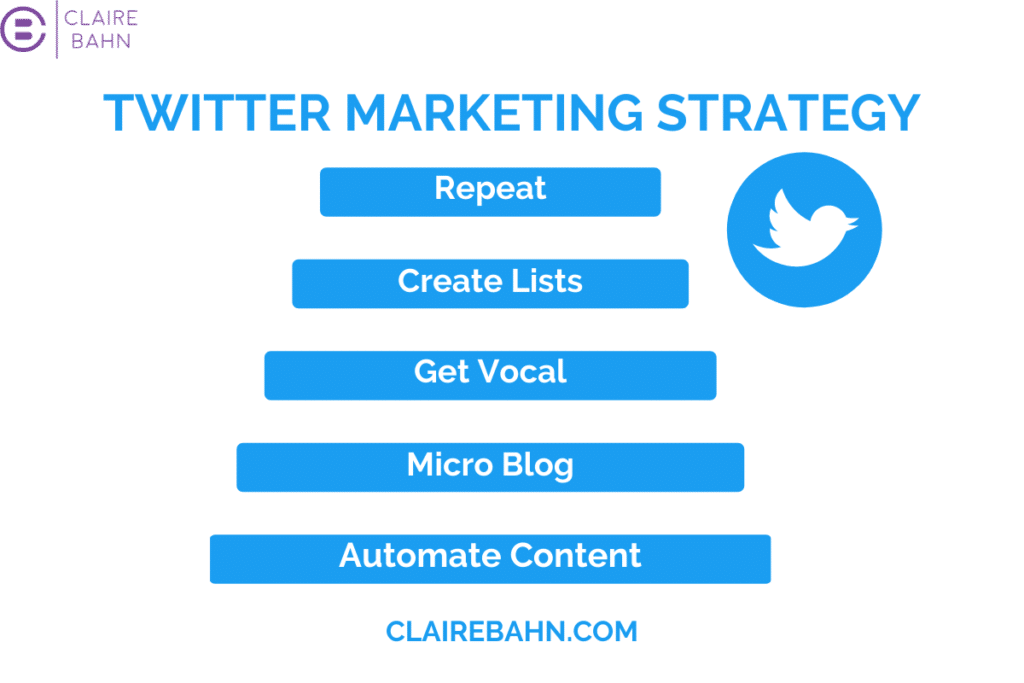 Considering that 59% of Twitter users regularly get news from this app, you need to be active here more than any other social media platform. By consistently adding your two cents to trending news, you give yourself more opportunity to be discovered through the trending tab.
Plus, Twitter the best place to explore what's happening in your industry. By tweeting your thoughts and opinions often, you can further define your brand voice until you become a recognized authority. It's all about finding what sticks. 
With that being said, here's my step by step strategy for marketing on Twitter to grow your personal brand:
1. Automate Content
I know I said that you need to be active on Twitter, but that doesn't mean you can't automate some Tweets to fill in the gaps.  This is a little more difficult to do on Twitter since your Tweets should line up with current industry news.
However, you should always factor evergreen topics into your content (whether that's blogs, videos, or your podcast). This is the type of content you can automate on Twitter.
Here are three easy, evergreen Twitter marketing ideas you can automate to be a resourceful thought leader in your niche:
Images: 

Use these in conjunction with your tips to help drive people to your website or email sign-up. If you have a blog you want to promote, use graphics from the blog in your tweet along with a few lines of information. If you have a freebie offer, share screenshots of testimonials about the freebie to encourage your Twitter audience to sign up. 

Original thoughts: 

Automate these sparingly to project your brand voice. As I mentioned, you should primarily do this in real-time so you can edge your way into trending conversations and get your name discovered. However, taking snippets from your podcast or blog is an easy way to get discussions going. I recommend sharing thoughts that go against the standard rule of thumb in your respective industry. 

Retweets: 

Yes, you can automate retweets. However, it's much easier to do this while you're actively engaging on the app. You want to routinely share other perspectives and information from industry leaders because you 

can't

 be the only one with all the answers.
RELATED: WHAT IS OMNICHANNEL MARKETING?
2. Micro-Blog
Numerous big-name brands like Nike use Twitter, but you'll rarely see them pushing a product or even something on their website. That's because Twitter is, first and foremost, a news source to start a conversation around your brand or tie your brand into the more prominent news. 
Only sharing blog links, Retweets, and links outside of the Twitterverse are not going to cut it if you're looking to grow your Twitter audience.
Leaders such as Tim Ferris can get away with posting this type of content because he has a pre-built audience. But if you're just now looking to boost your personal brand via social media (in this case, Twitter), you're going to have to do the leg work first— not just share bits of your blog and YouTube video. 
Tim Ferris found fame from his book The 4-hour Work Week. So think of your Tweets as micro-blogs (that's what Twitter is) that can lead you to build your personal brand towards your book, company, or product. 
Why do you need to microblog first? After all, this isn't what Ferris did back in 2007 before he saw success. In all fairness, some of his success is simply luck. However, Ferris always has a strategy in mind, and in today's world, that includes s Twitter marketing. 
As he confirms in this interview, he's all about "dabbling in a bunch of different things and seeing what works and then sharing that with an audience." 
Microblogging on Twitter is how you will figure out what works with your audience. 
3. Get Vocal
You need to engage on every social media platform, but Twitter is the one place where your voice has the potential to be the loudest. 
You should be engaging on Twitter by commenting on industry leader posts— especially the verified people. This can help you get retweeted by users with bigger platforms, exposing your profile to a much larger audience. 
Commenting on the "for you" or "trending pages" daily also helps you grow your network. Even if it doesn't have to do with your industry, being a part of meaningful conversations is a proven strategy to grow your audience. 
Do you want to attract more clients and boost revenue?
Learn how to position yourself as an expert, grow your audience, and attract the right clients.
Let's look at it from a Twitter user's point of view. Maybe you're a startup founder who decides to comment on trending news about stocks. You throw in your two cents by saying something informative, humorous, or helpful. 
People who appreciate your perspective might like your Tweet, or they might retweet it. Chances are, some of the people who see your engagement will want to see your other Tweets. Even if you primarily Tweet about your experience as a startup founder, you never know who you might reach. As long as your engagement and your Tweets are inspiring, you'll start to get more followers.
This is the best way to grow your audience organically. So make sure you're contributing to trending hashtags or news on a daily basis.
Disclaimer: There is a lot of pronounced political opinions going on on Twitter. If you don't want people to know your political affiliation, or it has nothing to do with your industry, my recommendation is to steer clear of that type of controversy. 
4. Create Lists
As with any marketing technique, you want to make sure you follow up with the right people. You shouldn't only be throwing content and Tweets out there to see what sticks. 
Twitter has a unique feature called Lists that can help you keep in touch with people such as journalists, industry leaders, investors, and your ideal client. 
For example, if you want a Forbes feature, find a journalist who covers your industry. They usually have their Twitter handle tied to their profile, so make sure you follow them on the platform. 
Once you have a handful of journalists you want to rub elbows with, you can do this digitally by engaging with them on Twitter. To remember which journalists you want to keep tabs on, you can create a private list and label it "Journalists."
On the Twitter desktop, you can create these lists by choosing "Lists" on the left-hand side of your screen. Give it a title and a description (I just leave myself a note, so I know how often to engage). From there, add the names of the journalists you want to communicate with and add them to your private list. And no— they won't be able to see if they're on your list. 
This takes away the guesswork of who you should be engaging with and makes sure you're routinely following up with the right people on Twitter.
RELATED: HOW BEING A PODCAST GUEST ELEVATES YOUR PERSONAL BRAND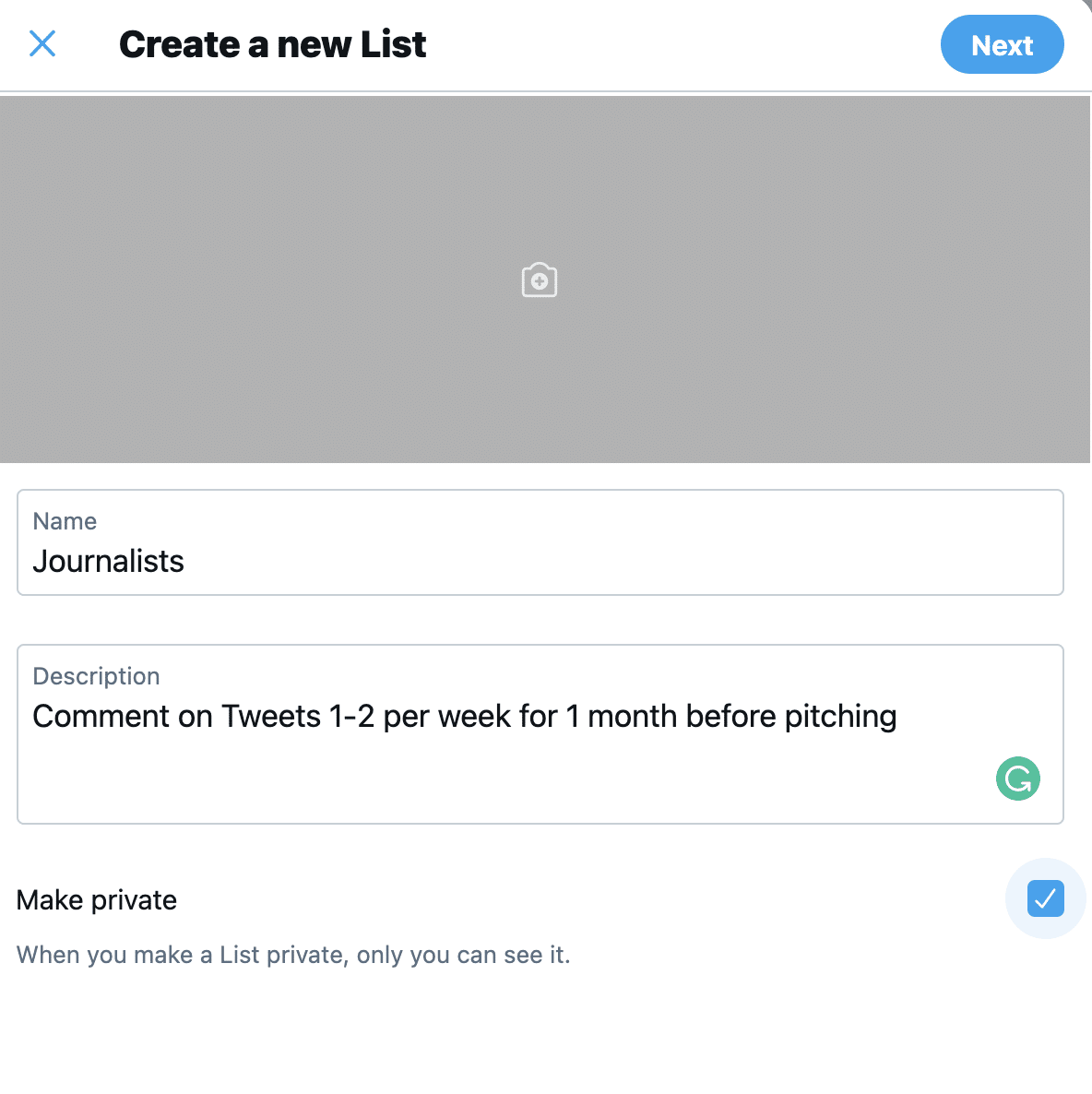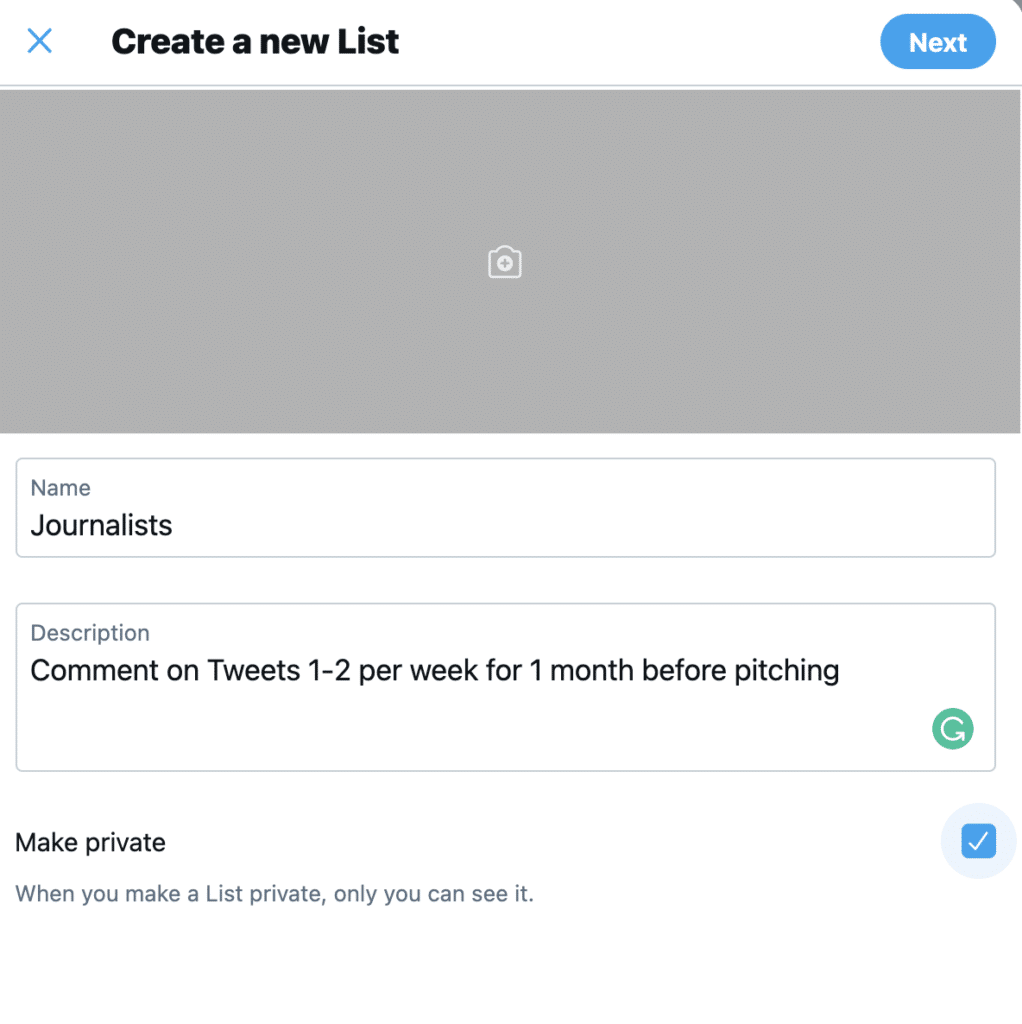 Conclusion
Marketing on Twitter is perfect for entrepreneurs looking to become thought leaders. If you want people to know your name, Twitter is probably the best place to be recognized as a personal brand rather than a company CEO or startup founder. 
It's time to elevate your personal brand to align your visibility and notoriety with your expertise. Our Personal Brand Concierge Program was built for high-achieving entrepreneurs, investors, founders, and executives just like you. Learn more about our Personal Brand Concierge Program.