You check all the boxes: You're intelligent, driven, and a team player. But where's that big work promotion you've been angling for?
Sure, you've spent years with your company, and your bosses have all but said you're the definition of their ideal employee. That promotion should've been knocking on the door months ago, right?
Not exactly. 
Executives and CEOs aren't looking for someone who merely checks off the corporate boxes anymore. Relying solely on a strong work ethic, an impressive resume, and a pricey college degree will not get you where you want to be. 
I know, it sounds crazy. It's what we've relied on for years to help accelerate our move up the corporate ladder. 
So, what do you do when that upward movement hits a plateau, and you start to feel unseen by your bosses?
Do you want to attract more clients and boost revenue?
Learn how to position yourself as an expert, grow your audience, and attract the right clients.
In a world where the competition is hot, the way to get noticed by the higher-ups is through the digital space. It may not be what you want to hear, but you have to learn to adapt and leverage yourself… or you'll keep getting overlooked.
As someone who regularly works with industry leaders, executives, and CEOs, I know what they're looking for in their ideal candidates. 
I've outlined some of my insights that I've gained as a personal brand strategist to help you avoid being that invisible executive.
What is an "Invisible Executive"?
If one thing is certain, the executive workplace is not what it used to be. 
While the evolution of the professional world has been mainly positive, the dynamics of earning a work promotion as a company executive are becoming increasingly complex. 
It used to be that you could rise through the ranks of a corporation, earn good recommendations, build your resume, and establish a professional network to move further up the chain and find your next job. 
It's a hard pill to swallow, but that is no longer the fool-proof formula to getting noticed. 
Things are much different now. 
Executives that do hard work, get positive feedback, and grow their resumes to try to climb the corporate ladder are finding that it's just not enough anymore.
These people suffer from Invisible Executive Syndrome. 
Invisible Executive Syndrome
This might be you if you're someone with a lot of knowledge in your industry. You may even have a decent reputation in-house. But outside your company or organization, no one really knows who you are or what you do.
Like many others, I'm sure that you are in the throes of learning that the concept of job security isn't always guaranteed. So what's missing from your action plan? At this stage, you're either looking for new ways to get noticed, or you're thinking about quitting.
But attempting to find that work promotion elsewhere will lead to a rude awakening.
New and increasingly common HR technologies use AI to scan through resumes. These computers aren't only ranking viable candidates, though. They're also searching for candidates' social media presence, posts, and demonstration of their expertise online. 
The stronger your professional online presence is, the more likely it is that you'll get a callback. 
So, if you're not already claiming your place in the digital space by sharing what you know, making yourself known, and owning your personal brand, then you might be making your future career moves very difficult. 
Why You're Not Getting That Work Promotion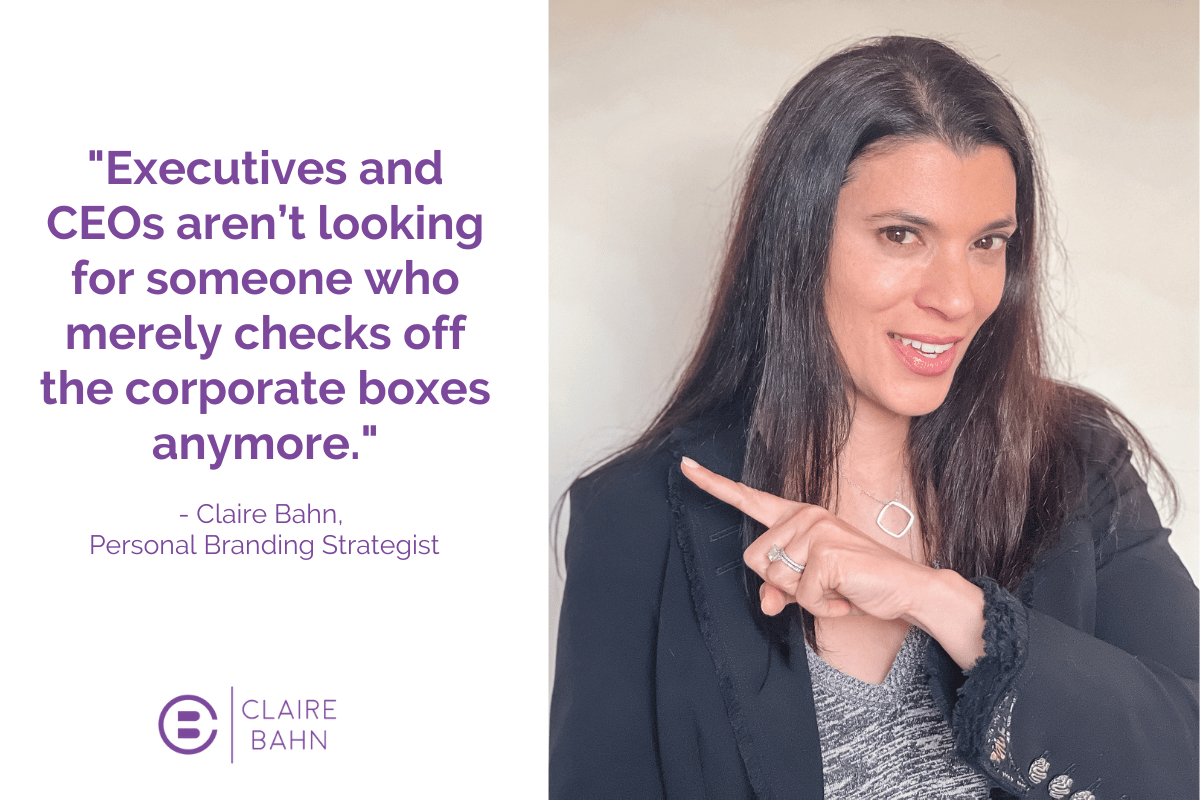 Now that we've covered what it means to be an invisible executive, there's no shame if any of it hit a bit too close to home. 
Taking note of our place in the office and realigning our goals to match our aspirations is imperative to successfully grow your career. 
It's time to figure out what you're doing wrong and why it's holding you back.
Let's take a closer look at why your boss isn't offering you a promotion or why you can't get a job after leaving behind a good reputation at the old office. 
There are several mistakes that employees make that can prevent them from a work promotion. However, there are two big reasons why nothing seems to stick that I want to talk about here. 
Reason #1: Your Resume is Weak
You've spent years working hard to bulk up your resume. And yet, you're still not getting that dream job. Before you start questioning if it was worth it, let me explain what I really mean when I say your resume needs some help. 
At some corporations, clicking the submit button on an application and putting it "under review" means that an AI program is busy prescreening your credentials. Unfortunately, this means that getting your resume in front of someone in HR is twice as difficult. 
When it comes to not getting a call, you and your work experience may not be the problem at all. The real issue might be in the types of words and phrases you're using on your resume. 
In addition to keywords, AI software also reviews your social media accounts. The software's algorithm scrutinizes every photo (yes, even tagged photos) and posts to determine if you're a viable candidate.
With 88% of organizations worldwide using AI technologies in their HR departments, it's a trend that's undoubtedly here for the long haul.
None of us thought that one day our job applications would be ranked like an SEO website on Google, yet here we are. 
Instead of quaking at the thought of missing out on a dream job to an algorithm, learn how to rework your resume and social media accounts so that you have a higher chance of standing out and getting reviewed by a hiring manager– you know, a real human being. 
Reason #2: You're Not Active or Present

 
Like it or not, social media is officially an extension of your resume. 
Social media is essentially your online portfolio. It serves as a way to connect with ideal clients, hiring managers, and even your boss's boss. 
No matter what industry you're in, you need to be online. 
There's no arguing that social media is a vital tool to building your personal brand and getting noticed. Especially these days when working from home is becoming increasingly popular in corporate environments. 
Thanks to an inevitable increase in millennial and Gen Z professionals joining the workforce, it's projected that 73% of all departments will employ remote workers by 2028. 
Networking with colleagues becomes a unique challenge when you've only ever spoken via Zoom meetings. Plus, you can't be a part of the conversation if social media is your coworkers' main form of communication.
But simply signing up for accounts and scrolling through feeds isn't going to do you any favors. It's all about what, when, and why you're posting on social platforms. 
Are you Google-able?
This is how you begin establishing your personal brand, which is exactly what people are looking for when they're deciding whether to give you that work promotion. The less they find when they Google your name, the less likely they are to put your resume at the top of the pile. 
Having a solid personal brand can prove that you're an asset to any company in your industry. Ultimately, you can future-proof your career by posting your knowledge online.
It's time to claim your seat at the thought leader table. 
While earning industry leader status takes a fair amount of effort, getting noticed online requires a straightforward formula: Get personal, know your goals, devise a content strategy, be consistent, and put your name out there. 
Soon, you won't just be a passive part of the conversation—  you'll be starting it.   
And when employers are in the market for the next big thing, you can bet that they'll hire a conversation starter over someone who hasn't updated their LinkedIn profile in five years. 
RELATED: THE GUIDE ON HOW TO BECOME FAMOUS ON SOCIAL MEDIA
The Company Executive's Guide To Becoming Well-Known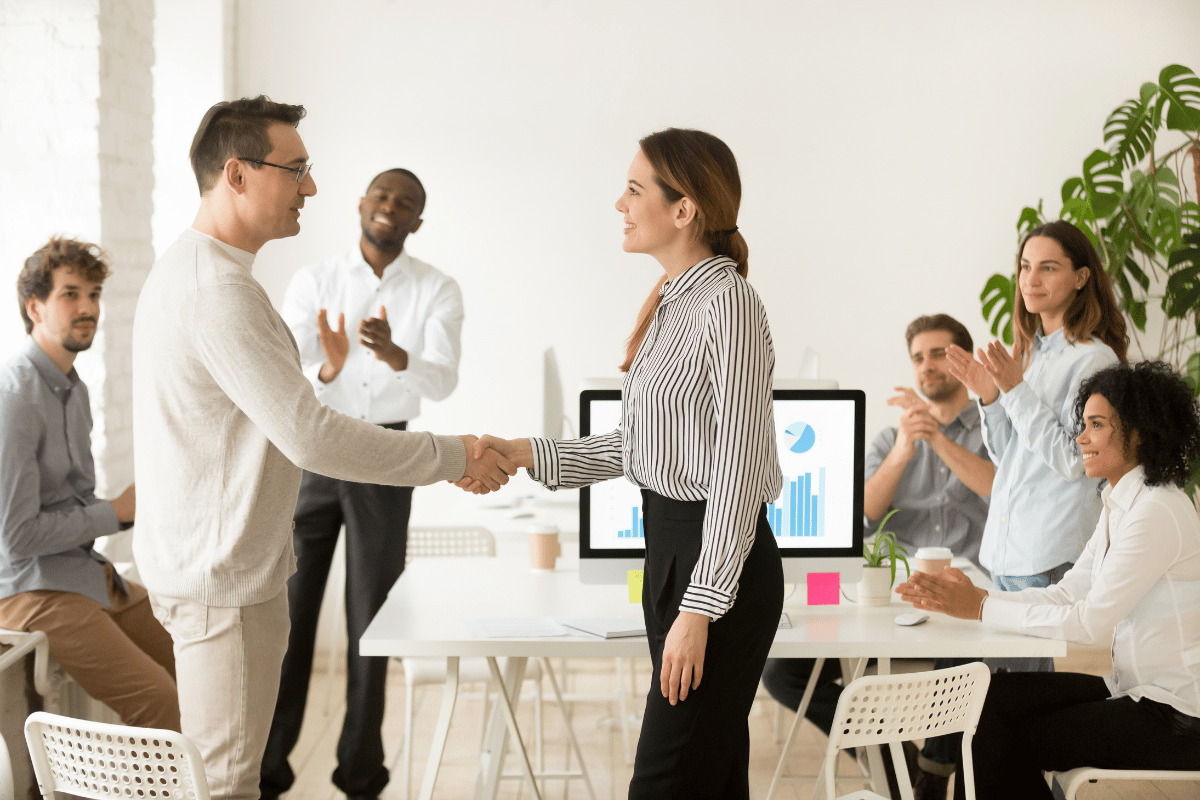 Gone are the days of stuffy, unapproachable company executives. Now, there's a desire for CEOs and leaders who are transparent, likable, and honestly on the verge of industry fame. 
Companies are looking for the next "Celebrity CEO" to join the ranks and help propel business through their social status and digital presence.
With the recent and explosive rise of digital influencers, it's no surprise that organizations are looking for the next Bill Gates, Richard Branson, or Whitney Wolfe Herd to take the lead. 
Admittedly, those companies are asking a lot of their CEO candidates. But when invisible executives rise to the challenge, they may just find themselves landing an interview and a huge work promotion worthy of a humble LinkedIn brag. 
But where do you start? How can you stand out and prove that you're celebrity CEO material?
It's not as intimidating as you might think. All you need is the right approach, confidence in your skillsets, and a knowledge of social media. 
While things like a flashy logo or styled photoshoot may give your brand a boost, they're not nearly as important as the content strategy you put in place.
So let's start there.
I'm going to detail the top 3 things you need to focus on so that you can beat the AI algorithms, build your personal brand, and claim your seat at the table. 
1. Take Ownership of Your Knowledge
Even though you're hunting for the next big thing in your career, you didn't get where you are overnight. 
Years spent earning a degree, proving your worth in the office, and navigating the industry aren't something to dismiss as a "given."  Be proud of what you know, and don't shy away from an opportunity to show it off online. 
Getting noticed by a company executive means proving your expertise outside of the workplace. That doesn't mean you need to start your own company or launch a workshop right off the bat. 
You already have everything you need to start taking ownership of your knowledge.
Showing you're an expert in your industry can be as simple as:
Creating content around tips and tricks you've picked up
Sharing your opinions on hot topics
Detailing new insights you've gained from publications or other leaders.

 
Don't be afraid to make people aware of your successes, either. 
Create blogs (like this one!) and YouTube videos showcasing your know-how. They allow for more in-depth explanations than social media posts alone. This shows your audience that they can trust you, and they'll keep coming back for more. 
Have a Strategy
But don't just start uploading videos, making posts, and writing blogs without an organized strategy. 
You first have to define your personal brand's message and voice. These are the core elements that provide the framework of your personal brand. You'll echo them in everything you post online. 
You build your brand's message on what you value most. Your brand's voice is less conceptual – it's how you deliver your message in the emails, posts, and videos you create. 
Staying consistent and having pride in your brand's message and voice helps you stand out in social circles, both online and off. 
If you think that a personal brand is only for Gen Z influencers with millions of TikTok followers, I'm here to burst your bubble. 
Everyone should have a personal brand—especially startup founders and rising executives.
A personal brand with solid messaging promises more investors, clients, and exponential growth. The last time I checked, that's exactly what a startup needs to thrive, right?
RELATED: 10 TIPS TO CREATE A STRONG SOCIAL MEDIA MARKETING STRATEGY
2. Build your content pillars 
Using your personal brand to share your industry knowledge is a surefire way to get that big work promotion. 
But before you go crazy with YouTube videos and LinkedIn posts, you need to know your areas of expertise. These are your content pillars, and they guide you in delivering your message and engaging your audience. 
Just because you've worked in the industry for years and you've dabbled in various positions doesn't mean you're an expert in everything. 
For example, someone in the finance industry shouldn't create content about business loans, real estate investments, and cryptocurrency. It's too all over the board. 
Instead, they should focus on one of those, stick to it, and post content detailing the ins and outs of that topic. 
Jot down a few topics you know a ton about, then stick to the areas of expertise where your passion lies. Remember, this is something you'll be creating content for regularly. So make sure you won't get sick of it too quickly. 
Next, map out what you can talk about in those areas. Take time to see how You can break up those conversations into different content for every social media platform. 
If you're at a loss of what to post, start by addressing informational gaps in your industry. Use your knowledge to start those conversations and answer people's questions about the topic. 
RELATED: 10 THINGS YOU NEED ON YOUR PERSONAL BRAND WEBSITE
3. Work on your online reputation 
Tons of factors can contribute to building your personal brand's reputation online. Most of them are non-negotiable in my book. 
Building your reputation with an online presence requires two foundational building blocks:
An updated website, and
Omnichannel marketing
I've already talked about why you need an omnichannel (or multi-channel) marketing strategy in this blog. But before you start filling up your social feeds, you need to create a website. Without a website to link your social media accounts back to, your industry expert clout will take a nosedive.
So, what's safe to share on social media?
We know that sharing is caring, and when it comes to your personal brand, sharing things about yourself and your journey fosters a sense of trust among your followers.
Whatever you've achieved or have working in the background – share it! Sharing your accomplishments and opinions online proves to your audience that you're active in the industry.
It's also worth mentioning how much you are dedicated to furthering yourself. Investing in yourself is another key component of your reputation. If you're attending a workshop or staying on top of industry trends, tell your online audience about it (and share what you've learned).
Also, keep in mind that most industry conversations are ignited by someone's opinion. So, if you've got a new perspective on something, put it out there! J
ust make sure it won't get you in trouble with executives and other thought leaders.
Engaging with the right people
Once you've got your social media posts secured and a solid website, it's time to start networking online. Don't just start following and commenting on every profile you see, though. You have to be selective with who you engage with and how. 
For example, as someone seeking a work promotion, you'll want to engage with higher-ups in your company via LinkedIn. Follow them, like their posts, leave genuine comments, and share their content (if it resonates with your brand's message). 
Here's another trick: if you just uploaded a new video or blog post, tag the company's social media handle when you share them on social media. By actively repping your company, you'll start getting attention from the right people in the right circles.  
Conclusion (H2)
Taking action on these three things will ensure that you're well on your way to becoming an industry leader.  Get ready to ditch the invisible executive status and say hello to that work promotion you've been dreaming of. 
It's time to elevate your personal brand to align your visibility and notoriety with your expertise. Our Personal Brand Concierge Program was built for high-achieving entrepreneurs, investors, founders, and executives just like you. Learn more about our Personal Brand Concierge Program.