You have a personal brand, even though you might not know it, and even if you haven't already started to cultivate it to work in your favor. Taking control of your personal brand (through personal branding 101) and building it can help you to achieve your goals and dreams in the business world. Letting it languish and not taking control could be holding you back. My point? You need to understand personal branding 101.
Of course, many people are still somewhat confused by the concept of personal branding. What is it and why is it so important? Let's get the basics out of the way up front, so you can then start learning how you can build a strong personal brand.

What Is a Personal Brand?
A personal brand is essentially how you promote and present yourself to the rest of the world. However, building your personal brand (or, as I like to call it, personal branding 101) requires more than just setting up an account on Twitter or LinkedIn and posting once in a while. It's about more than having a website and a logo of your own. Those things are all just components, parts of the whole.
Do you want to attract more clients and boost revenue?
Learn how to position yourself as an expert, grow your audience, and attract the right clients.
Think of it like building a rocket. You can't just have your logo on the side of a hunk of metal, can you? It wouldn't work very well. You need to have controls, guidance, thrusters, fuel, etc. This simply means that you need to take all of the parts of personal branding and combine them to create and follow through with your plan to build your brand.
Not only do you need to employ all of the right tools and techniques, but you need to know how to do it right. You can't use a slapdash approach and hope to have a strong personal brand that does you any favors. You can't do things halfway. Fortunately, with the tips for personal branding 101 that you will find below, it becomes much easier to get your personal brand in shape.
What's Your Current Brand Reputation?
Have you taken the time to look at your current brand reputation online? As mentioned earlier, even if you haven't done anything to build your brand yet, it doesn't mean that you don't already have a brand. Simply existing and being online begins to build elements of what people will start to view as your personal brand. So, whether you like it or not, you already have some brand reputation. Let's take a closer look at how this works in practice.
Let's say that you are hoping to get hired by a company that you admire and would like to work for. The hiring managers and HR at the company will do more than look at your resume and have an interview. Today, they are going to head online to learn more about you and what you bring to the table. If you have a lot of pictures of you being drunk at parties or if you have said things you regret in posts online, they are going to see those things.
All of the regrettable things that you have done and posted online are there for the world to see. This could be a problem.
You might be thinking that since you are starting your own business, this won't matter. After all, you are the one in charge. However, that's not entirely true, is it? If you have your own business, you still need to have clients and customers. Today, you can be sure that they will search for you on the web, as well. They want to know who they are working with and buying from. If you have a sullied personal brand, they might just skip over you and head to one of your competitors.
You might find that you need to do some cleanup work. Remove old photos, posts, and anything that might paint you in a negative light.
As you can see, it's not just a good idea that you get control of your personal brand and build it. It's essential. Go ahead and search for your name or your business on Google. Make a list of everything that you find both good and bad. How does your personal brand stack up?
What Makes You Unique?
Before you can start to reclaim and build your personal brand, though, you need to know what it is that makes you or your business unique – the center of personal branding 101. What is it that sets you apart from others and makes you stand out from the crowd? This is true whether you are building your brand so you can get hired or if you have your own business and you are trying to build your number of customers and followers.
You need to know what your key message will be and what you want people to think about you when they see your name and branding. Having the right messaging will tie into all of the other aspects of building your brand, and it's one of the first things that you need to consider. As before, you can make a list of the unique offerings and traits that you have.
Define Your Personal Brand Strategy: Personal Branding 101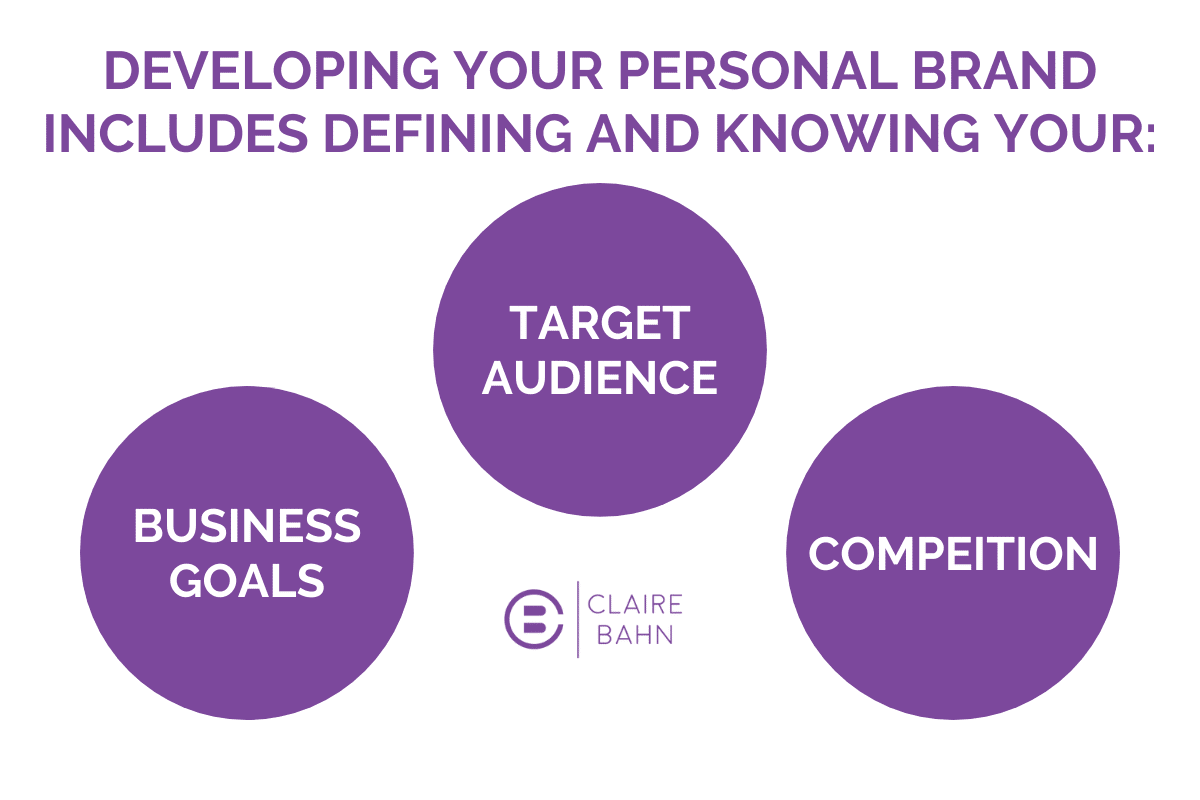 It is essential to define your personal brand strategy, and you can do this in three relatively simple steps. Each of these is essential for branding and business success.
Business Goals
First, identify your business goals. These goals will naturally vary from one business to the next. You might find that you want to bring in more revenue for your business. This is one of the most common goals, of course. Another goal might be to become recognized for a certain skill or area of expertise. Some might have the goal of becoming a paid speaker on certain subjects. There are many goals possible. Figure out what you want and have at least one goal you are working toward.
Target Audience
You have to know who your ideal audience is so you can build your brand to target them specifically. You will want to have an idea of the demographics of your audience, for example. This will include things like their age range, gender, geographic location, language, salary range, and interests. You might also want to start to define pain points that your potential audience might have and how what you offer can make those pain points vanish.
Create a list of the characteristics and demographics of the perfect target audience. Once you start to create avatars of the perfect client, you will find that it becomes much easier to build your personal brand that will appeal to that audience.
Know the Competition
You will have competitors whether you are aiming to get the same job as someone else or you have a business that is after the same customers. Take the time to look at the competitors you have in your field and get a better sense of who they are and what they are offering. What is it that makes them unique? How can you differentiate yourself from the competition so that you and your personal brand stands out?
Even if you do not find competitors who are offering the exact same things that you are offering, you will still want to identify competitors that are close to what you do or that target the same audience. Learn from what they are doing and improve your own brand from what you discover.
Brand Identity and Bringing in the Audience
Another part of building a strong brand is developing a brand identity. This is what many people imagine when they think about branding, but it's only part of it. Your brand identity will include things like your logo, color scheme, and overall online look.
You need to have a logo that you can use on your website, social media, business cards, etc. If you have the skills, you can create a logo of your own with something like Canva or Adobe Illustrator. You could also pay someone to create the logo for you on Fiverr or a similar site. The logo does not have to be complicated. It could simply be a stylized rendition of your initials or your company's initials. Just make sure that your logo does not look too similar to other brands, especially if they are in the same field.
In addition to the design of the logo, you also have to think about the best colors for your brand. Learn a bit about basic color psychology to figure out what colors will work best for your needs. The right colors can help your audience to connect with your brand. You can also check out Adobe Color.
Check out the fonts that you are using for the logo, as well. You want to make sure that they are easy to understand and read. Your brand identity elements should put forth a professional appearance.
Own Your Brand
You need to buy your domain name, even if you aren't going to put up your website right away. Having a registered domain is the cornerstone of your personal brand. Once you have a registered domain, it's yours. This makes it even more important than your social media accounts. The domain name will be the basis for all of the profile names you use across your existing online platforms and any new platforms that are developed. Having a cohesive name on your site and across all of your other online channels will make it easier for people to find you.
If possible, buy your first and last name to register as your domain name. For example, my website is clairebahn.com. If you can't get your first and last name, try adding your middle initial or your full middle name. If you are buying a domain for your business, try to get your business name. This is why it's important to come up with a business name that is unique and easy to remember.
Build the Website
Now that you have your domain, it's time that you put up your website. It doesn't need to be too elaborate, especially when you are first getting started. You can build your site using WordPress, which is what more than 60% of sites are using today. Some web hosting sites will even offer free WordPress when you host with them. It's easy to keep these sites updated, and you can even add a blog. Having a blog that you update regularly is a good way to help you climb in the rankings on search engine pages, and it makes it easier for people to find you.
Always make sure that your website features your logo and colors, and that all of the content does a good job of perpetuating your brand's focus. The site should be easy to navigate and use for visitors, as well. Since many people are accessing the web through their phones, you should make sure that your site is mobile-friendly. Check out how your site looks on multiple types of devices.

Amplify Your Social Profiles
Another part of personal branding 101 is to take control of your social media. Make sure that you register the domain name you purchased with all of the major social media sites. This includes Facebook, Twitter, Pinterest, LinkedIn, and Instagram, at least. You might also want to set up a TikTok, Tumblr, and YouTube. If you don't have all of these social media accounts, go ahead and set them up as soon as possible.
Build out your profiles and add a link to your website, a bit about you or your business, your logo, etc. You want your brand identity to match across all of the sites that you use. Make sure the social media accounts make it easier for people to learn about you and contact you. You should also have an updated clear picture on your accounts. Allow people to put a picture to the name.
Keep Building Your Knowledge
Developing and building your personal brand takes some time and effort, and you may find that you could use a bit more guidance along the way. Now that you have a better understanding of personal branding 101, consider taking this free masterclass, which will help you to learn more about building a powerful online presence. I've been featured on Forbes, Entrepreneur, MarketWatch, and more, and have the knowledge and experience to help you grow your personal brand.
Do you want to attract more clients and boost revenue? Learn how to position yourself as an expert, grow your audience, and attract the right clients. Watch my FREE Personal Branding Masterclass today.