It's almost 2021 (finally), which means it time for you to go through your YouTube channel setup for your personal brand.
Even if you already have a channel, right now is the perfect time to maximize your channel settings to make sure uploading videos to YouTube is not only easy but effective.
Do you want to attract more clients and boost revenue?
Learn how to position yourself as an expert, grow your audience, and attract the right clients.
Youtube is the second most used search engine in the world (right behind Google, of course). And just like most things that can be search engine optimized (SEO), you can set up your videos to receive traffic and subscriber increases with just a few simple and routine tricks.
RELATED: What Is Social Media Branding?
YouTube Channel Setup For Beginners
If you're brand new to YouTube, then congratulations! You're taking a massive step in the right direction for your personal brand.
Right now, I'm going to walk you through step-by-step on how to create your channel.
Step 1: Go to YouTube.com and click Sign In. You're going to need a Google account and/or Gmail email address to create your own channel.
Note: If you don't have one, go to Google and Create Account > To Manage My Business
This second option allows you to have more freedom to optimize your YouTube channel for your brand (things such as custom URLs are only available under this setting).
If you eventually hire a video editor, a Google account to manage your business will have the option to grant them access to upload to your account.
Step 2: Once you sign in to a YouTube account, click your profile icon and click Create Channel > Use a custom name.
You want to choose a "custom name" because you will have more options to brand your content definitively.
Step 3: Choose your channel name.
I highly recommend using your own name for your personal brand's YouTube channel. This prevents you from boxing yourself into a specific niche since you may choose to elaborate (or maybe even rebrand) your area of expertise down the line.
From there, YouTube will have you choose your profile picture and add your description and website links. However, because those two things are essential, I'm going to suggest skipping that part for now until you read the rest of this blog.
Just click Save and Continue. Now it's time to figure out how to optimize your YouTube channel set up for brand recognition!

How To Brand Your YouTube Channel
There are 31 million YouTube channels with 1 billion hours of video content being consumed on this platform every day.
That's a lot of competition, which means you need to convince people to watch and subscribe quickly.
Taking the time to fully customize your channel — even before you upload your first video — will give your potential new audience an idea of what to expect from your personal brand.
I separated these YouTube settings into their own sections because you'll need to spend some time on each of them. These are going to be the features of your channel that define your brand's content.
If the idea of doing this is already stressing you out, consider contacting your favorite personal brand strategist (that's me!) for some insight.
RELATED: PRIVATE COACHING WITH CLAIRE
1. Choose a profile picture and channel description
Let's head back over to your primary channel. Click your profile icon and go to Your Channel. On that page, you'll see Customize Channel near the middle right-hand side.
This will bring you to your YouTube Studio, where you can manage your entire YouTube channel setup. If you go over Branding, you'll see you can change your profile picture here.
I have an entire blog on personal branding photography, and it's importance, but here is my general rule of thumb:
Pick a professional profile picture. One that is well-lit and, preferably, taken by an actual personal branding photographer. 
Don't use a logo. Your profile picture will be one of the first things people look at (besides the video thumbnail and title) to decide whether or not they want to watch your video and subscribe to your channel. 
If you have a logo as your profile picture, it immediately gives off an impersonal tone, which is not what viewers want these days. "Ninety-two percent of people trust recommendations from individuals (even if they don't know them) over brands," according to a Nielson study. This means people don't care about your company logo; they want to see you aka your personal brand. 
YouTube profile picture dimensions and upload recommendations:
JPG, GIF, BMP, or PNG file (no animated GIFs)
800 X 800 px image (recommended)
Square or round image that renders at 98 X 98 px
RELATED: Top 5 Benefits of Outsourcing For Your Business
2. Create a banner
Under the same Branding YouTube channel setup, you'll notice the option to upload your Banner image. As it says, "This image will appear across the top of your channel."
Your banner is important for branding your YouTube channel for a few reasons.
First of all, it sets the tone for your channel as a whole. It should have the same fonts, colors, and images as your thumbnails (more on that later).
Second, your banner presents an excellent opportunity to showcase your expertise. I recommend displaying one image of yourself and your personal branding statement in your banner image. 
Another standard practice for designing your banner image is to include your upload schedule. For example, Gary Vaynerchuk's banner lets his viewers know that they can expect new videos every weekday.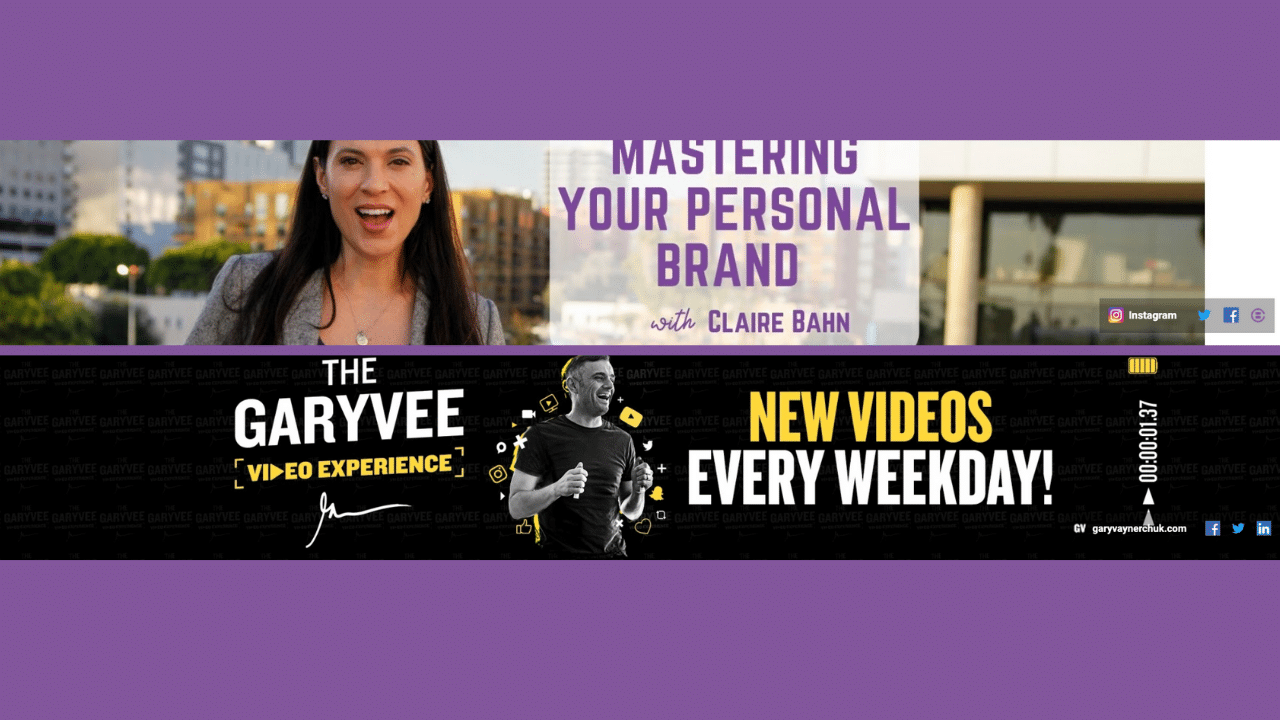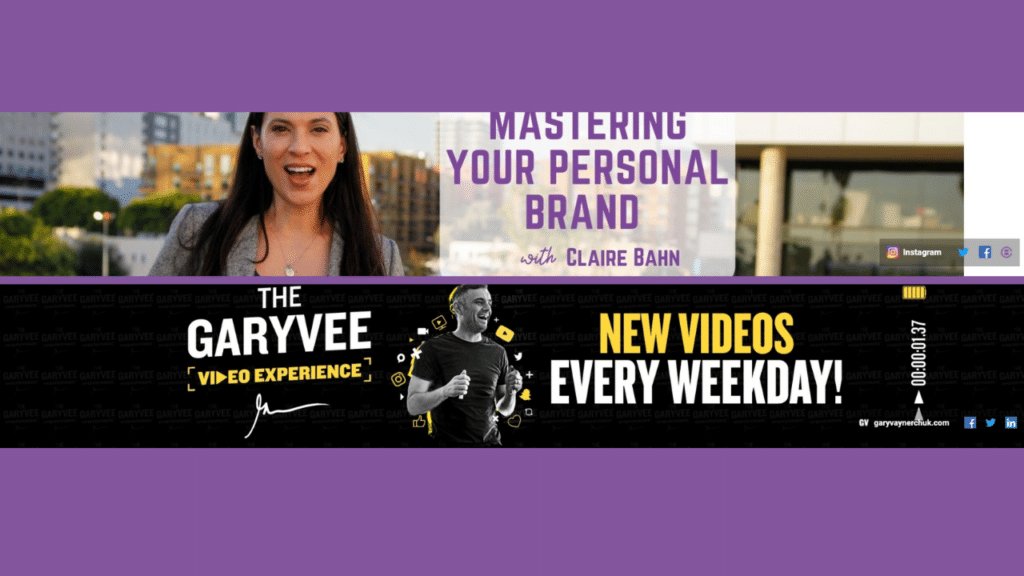 YouTube banner image dimensions and upload recommendations: 
Minimum dimension for upload: 2048 x 1152 px with an aspect ratio of 16:9.
At the Minimum dimension, the safe area for text and logos: 1235 x 338 px. Larger images may get cropped on particular devices.
File size: 6 MB or smaller.
Keep in mind that formatting your banner can be a little tricky. The way your banner crops to fit mobile may take out some of the critical aspects of your personal brand banner. Make sure you rework your YouTube banner after checking it on mobile.
3. Add a watermark
One of the most underrated YouTube channel setup options is the ability to brand your videos with a watermark.
You can add your unique watermark right after uploading your personal brand profile picture and your banner image. This would be the perfect place to add your company or product logo if you have them.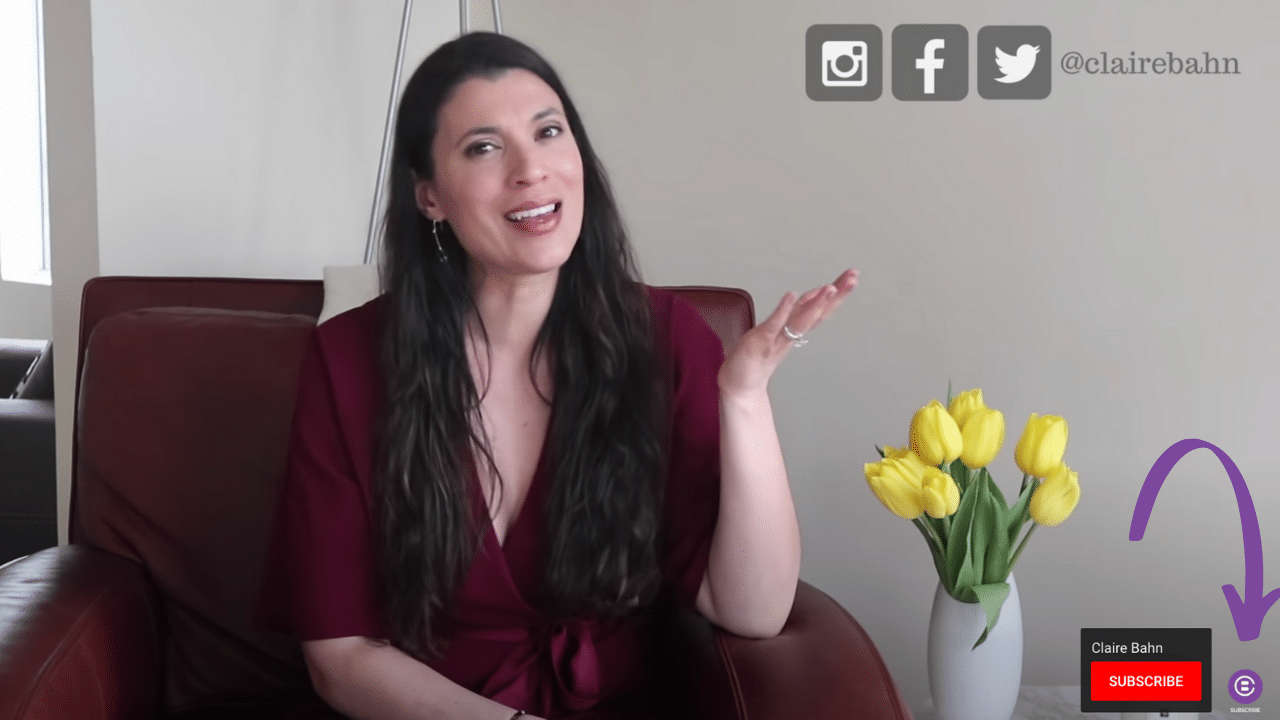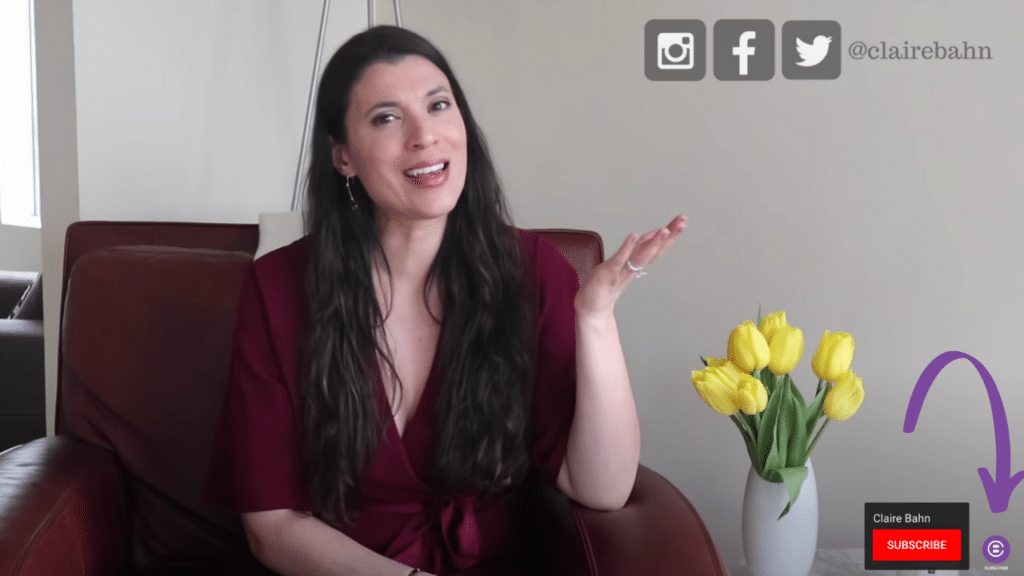 If not, I recommend using a graphic that speaks to your brand. For example, if you make videos about coffee, you can add an illustration of a coffee cup as your watermark. It's also best practice to add the word "subscribe" under your logo or chosen graphic.
On a desktop, the watermark allows viewers to subscribe to your YouTube channel instantly. Plus, your watermark will brand your video content so that people will begin to see some sort of familiarity should your video be shared on another social media platform.
YouTube watermark dimensions and upload recommendations:
Minimum 150×150 pixels.
Square image less than 1 MB in size.
4. Default Uploads
Ready to cut your YouTube upload time in half?
Go to your YouTube channel setup settings. You can find them by going to Profile Picture > Settings, or if you're still under the branding tab, simply scroll down to Settings > Upload Defaults.
On this section of your YouTube channel setup, you'll see the option to add a Title, Description, Visibility, and Tags. Whatever you fill out in these sections will automatically show up in your YouTube videos.
Every. Single. Time.
I personally don't fill out the title portion since I want my titles to be search engine optimized for every video. However, if you publish the same type of videos (such as How-To's), you can add the word "How-To" in this portion of your title to save you a little bit of time.
Beneath that is your video description upload defaults. This is the section that you want to fill out.
RELATED: SEO on Social Media – Claire Bahn Explains Social Media Marketing
Here's the format I use for my description default upload:
Link to the corresponding blog:

This is a great way to lead viewers to your website, and it gives you the perfect opportunity to use your SEO keyword.

Playlist Titles and Video Links: 

You want people to binge-watch your videos. Choose one of your playlists (more information on that below) along with 3-4 titles and related video links. You can change these up for each upload.

Consultation Link: 

Your description helps lead people to your product or service. I include a link to my consultations and my free personal brand rating quiz. 

Social Media Links: 

If people open your video description for one reason, it's to find your social media links. By including these in your upload defaults, you'll know that viewers can access them for every video. 

2 Related Hashtags: 

These are the hashtags that show up above your YouTube video title if you include them in your description. A hashtag like #personalbrandingtips can be an upload default hashtag since I often use it. Of course, I can always change this (along with the links mentioned above) before each video upload. 

Tags: You can upload default hashtags with SEO keywords on your industry, but I would only include about 5.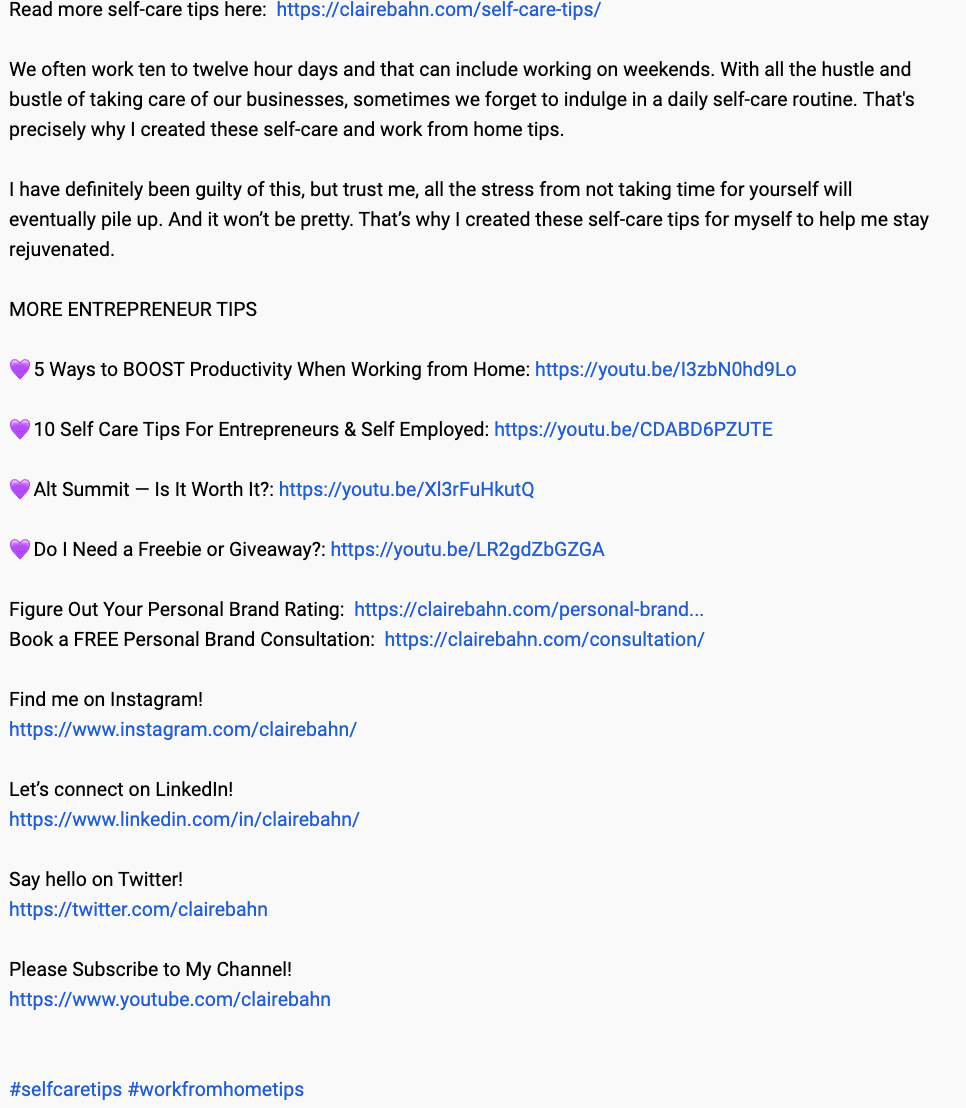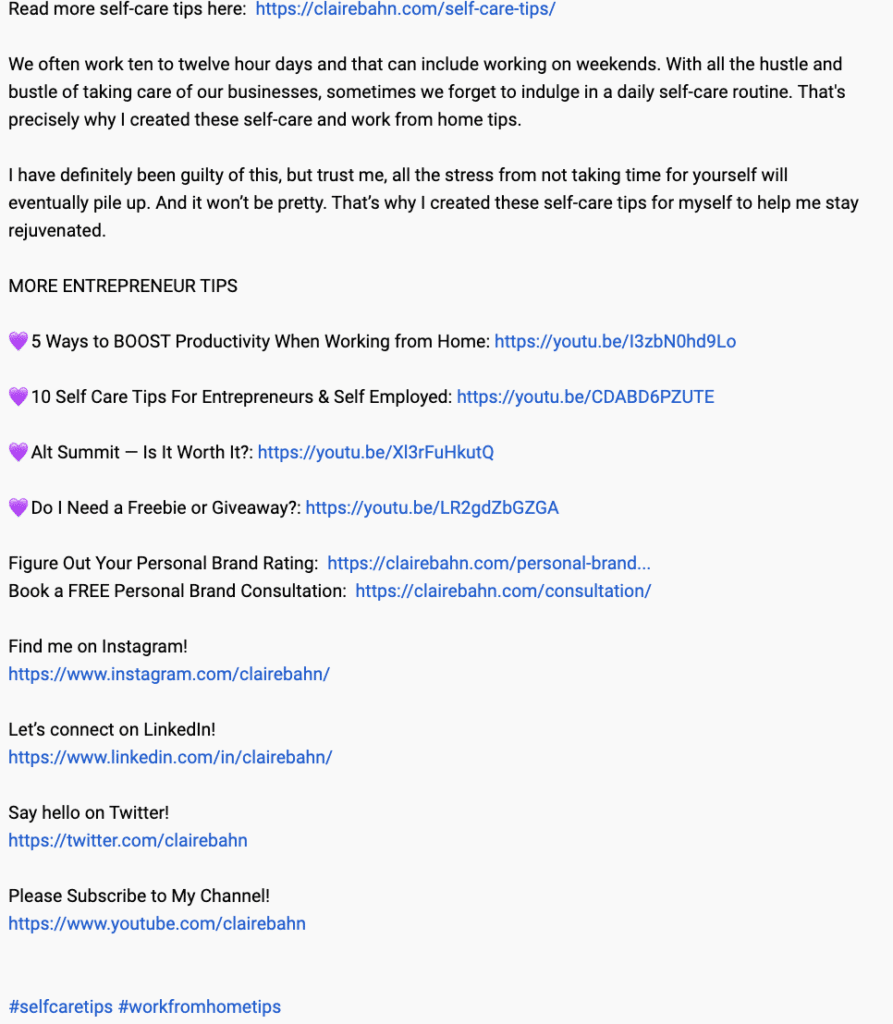 YouTube Channel Setup Extras
We're not done yet. Below are a few more custom ways you can solidify your YouTube channel setup.
These will help people find you, help viewers get to know you, and encourage YouTube to recommend your videos.
RELATED: HOW TO USE SOCIAL MEDIA TO BOOST YOUR CAREER
Verification
Making sure your YouTube channel is verified plays a factor in its discoverability. 
To see what I mean, head over to your new profile icon at the top right, and go to Settings. In the first block section, you'll want to click on "Channel status and features."
From there, select your country and choose whether you would like YouTube to verify your channel through a call or with a text verification code.
Once your channel is verified, you'll unlock features such as:
Video uploads

Playlist creation

Add collaborators to playlists

Add new videos to existing playlists

Videos longer than 15 minutes

Custom thumbnails

Live streaming
Your "About" Section
Don't skip this section of your YouTube channel setup. If you didn't fill this out when you first created your channel, go back to Custom Channel >  Basic Info. Here is where you can change or update your channel name and description.
Viewers will be able to find this description under the "About" tab on your YouTube channel, so treat it like the "About" section on your blog. You can write up to 1000 words here, but I recommend a couple of paragraphs maximum.
Your "About" description is where press, investors, or interested brands will go to learn more about you. You also want to make sure you link your social media accounts in this section.
If you want people to contact you quickly from your videos, include your email (you may also want to have your email in your Description Default Upload).
Thumbnails
Thumbnails are going to be the fact that boosts your view count. I talked about creating a killer thumbnail in my blog, 10 YouTube Tips For Personal Brands.
After some research, I found out that thumbnails with the most views have these in common:
Large text and graphics

Various bright and bold colors

How-To 

titles

Screenshot photos (not curated/professional) as the thumbnail image

A mix between 2-5 fonts
Playlists
Once you get into the habit of uploading YouTube videos every week, you'll want to start categorizing them into playlists. I have playlists such as Entrepreneur Tips, Personal Branding Tips, and (soon) How To Start a YouTube Channel.
If someone clicks on your playlists, YouTube will automatically play them the next video in your playlist. This drastically increases all the metrics that YouTube looks at to recommend your videos: Views, Impressions Click Through Rate, and Audience Retention Time.
RELATED: 10 YOUTUBE TIPS FOR PERSONAL BRANDS
Conclusion 
54% of consumers would like to see video content from the brands they support. And if you're utilizing your personal brand, you're going to see an ROI from your videos faster than a company brand.
There's a lot of work that goes into your personal brand, the most intimidating of which includes creating video content. That's why I decided to include this in my Personal Brand Concierge Service!
It's time to elevate your personal brand to align your visibility and notoriety with your expertise. Our Personal Brand Concierge Program was built for high-achieving entrepreneurs, investors, founders, and executives just like you. Learn more about our Personal Brand Concierge Program.